Website design Nottingham, web programming and development company. Gooii website design Nottingham, web design company, Nottingham, Nottinghamshire, Derby, Derbyshire, Leicester, Leicestershire, London, East of England, North of England, South of England, West Country, Wales Scottland, Ireland, UK. We produce, websites, cd-roms, corporate id, logos, design, programming, digital, print, digital, iPhone, app, app design, iPad, mobile, Android, android app design, iOS, Flash, content managements systems, apple, microsoft, charity, education, corporate, VR, Virtual Reality, VR apps, Virtual Reality apps, VR video, virtual reality video

Our work
All, App, Culture, Education, Org and Gov
APP
'IWM Scan and Share' iPhone and Android App
10th November 2012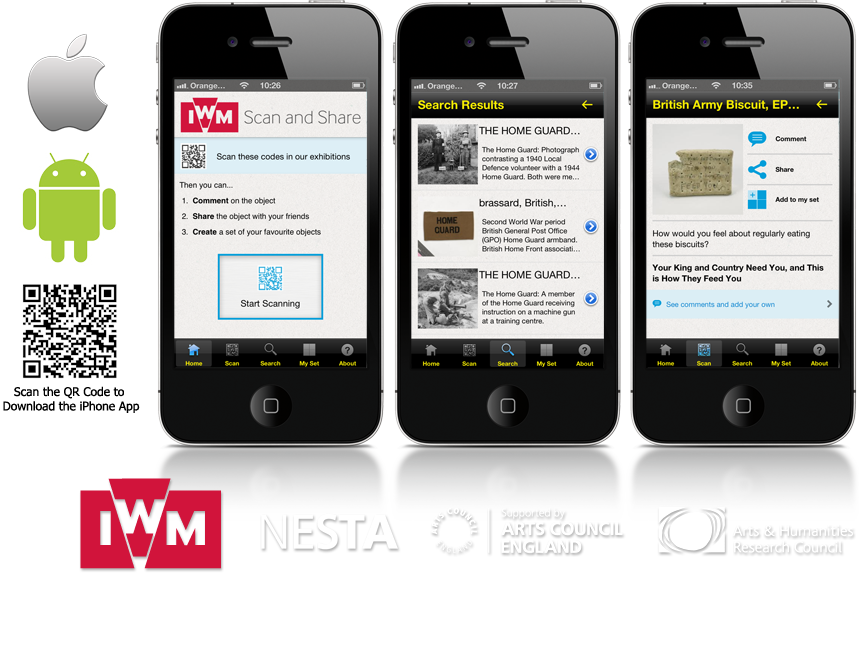 The 'IWM Scan and Share' app lets you discover and tell your own story about objects you find in the Imperial War Museum's collections. You can use this app to create and share your stories, memories and experiences. You can also search through IWM's objects and make your own collection.
The app can be used to scan an object's QR code at IWM exhibitions and get unique content about that object. Users can also search the online database, returning exhibit results, as well as allowing the ability to comment and share with social networks such as Twitter and Facebook.
The Scan and Share App is a result of an R&D partnership between IWM, UCL, Knowledge Integration and Gooii Ltd. and is part of the Social Interpretation Project funded by NESTA, Arts Council England and the Arts and Humanities Council. The app was designed by the IWM during an extensive research phase and programmed entirely in-house by Gooii Ltd.
To download the 'IWM Scan and Share' App please visit:
iPhone: itunes.com/apps/iwmscanandshare
Android: Google Play