Website design Nottingham, web programming and development company. Gooii website design Nottingham, web design company, Nottingham, Nottinghamshire, Derby, Derbyshire, Leicester, Leicestershire, London, East of England, North of England, South of England, West Country, Wales Scottland, Ireland, UK. We produce, websites, cd-roms, corporate id, logos, design, programming, digital, print, digital, iPhone, app, app design, iPad, mobile, Android, android app design, iOS, Flash, content managements systems, apple, microsoft, charity, education, corporate, VR, Virtual Reality, VR apps, Virtual Reality apps, VR video, virtual reality video

Our work
All, App, Web, Education
APP
'The Adventures of Biker Jack' iPhone and Android App
22nd September 2014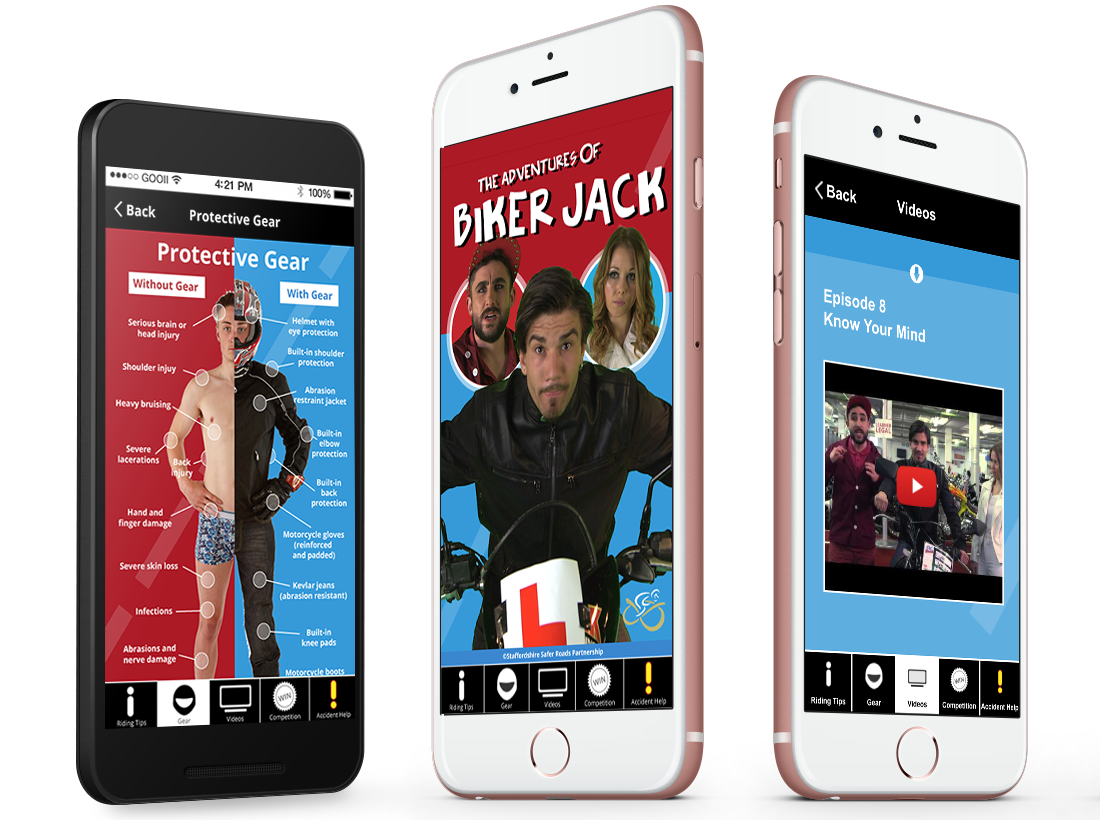 The only app of its kind, 'The Adventures of Biker Jack' iPhone and Android app was commissioned by Staffordshire Safer Roads Partnership, in association with Staffordshire County Council, with the aim of reducing motorcycle casualties on our roads. Designed for young motorcyclists, the app provides information on how to stay safe, together with information on the use of protective gear. The highlight however are the 8 episodes of 'The Adventures of Biker Jack' each with a different road safety topic, and we will be pushing new video content to the app as it's released.
Other key features include push notifications, the ability to store emergency contact information, an in-app GPS used to locate your position, information on what to do in the event of an accident and an online version of the app for Windows and Blackberry users.
The app was built using HTML 5 and AngularJS and packaged in native iOS and Android shells, which allowed us to create a cross-platform app at a fraction of the cost of two native apps, helping our client meet their budget restrictions. For the best results we recommend apps are built natively for each platform, but if budget is an issue and a cross-platform development is key, then HTML/AngularJS apps are a great alternative.
Download the Biker Jack app from the Apple App Store and Google Play Store.
View the mobile app online at: bikerjack.com