Website design Nottingham, web programming and development company. Gooii website design Nottingham, web design company, Nottingham, Nottinghamshire, Derby, Derbyshire, Leicester, Leicestershire, London, East of England, North of England, South of England, West Country, Wales Scottland, Ireland, UK. We produce, websites, cd-roms, corporate id, logos, design, programming, digital, print, digital, iPhone, app, app design, iPad, mobile, Android, android app design, iOS, Flash, content managements systems, apple, microsoft, charity, education, corporate, VR, Virtual Reality, VR apps, Virtual Reality apps, VR video, virtual reality video

News
Adobe Launching Project Aero
27th June 2018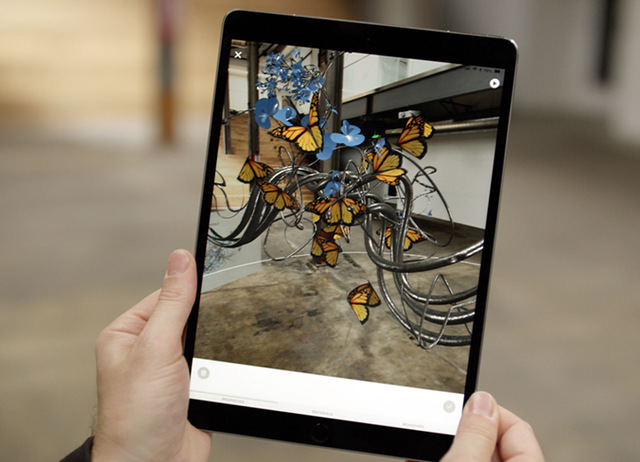 Adobe is jumping into augmented reality
Project Aero is a multiplatform tool that brings graphics into an augmented reality space. In a demo video of the new software, designers started with graphics from Photoshop CC and Dimension CC. These are then exported to a Project Aero file. Project Aero uses a tablet to finalize the AR elements of the graphic. This even includes using the device's camera to preview the changes in an AR space. The demo also shows tools for animating the graphic along with scaling, rotating, and exporting to a USDZ file.
Project Aero is designed with Apple but Adobe is also working with Pixar. They will help add support for importing USDZ files into Photoshop CC and Dimension CC. Converting into USDZ allows the files to be used with Apple's ARKit.
Crafting a platform that simplifies AR creation isn't an easy task. Adobe says every business group within the company is collaborating on the new project. The company says it will have more details on the upcoming software during Adobe Max, a conference later this year.
AR projects simplified
"AR content development today also requires a combination of creativity and technical skills," wrote Abhay Parasnis, Adobe executive vice president and CTO. "Project Aero will deliver a system for both developers and creatives to build simple AR scenes and experiences leveraging Apple's ARKit. Designers can easily create immersive content that can then be brought into Xcode for further refinement and development."
For developers, Adobe's announcement means upcoming software could help simplify the process of building AR objects. With easier content creation, Project Aero could mean wider accessibility to new AR content for the average smartphone user.
You can see a video from Adobe here.
If you also wish to work with our talented virtual/augmented reality, web or app development teams then please get in touch here.