Website design Nottingham, web programming and development company. Gooii website design Nottingham, web design company, Nottingham, Nottinghamshire, Derby, Derbyshire, Leicester, Leicestershire, London, East of England, North of England, South of England, West Country, Wales Scottland, Ireland, UK. We produce, websites, cd-roms, corporate id, logos, design, programming, digital, print, digital, iPhone, app, app design, iPad, mobile, Android, android app design, iOS, Flash, content managements systems, apple, microsoft, charity, education, corporate, VR, Virtual Reality, VR apps, Virtual Reality apps, VR video, virtual reality video

News
Apple WWDC (World Wide Developer Conference) 2018
15th March 2018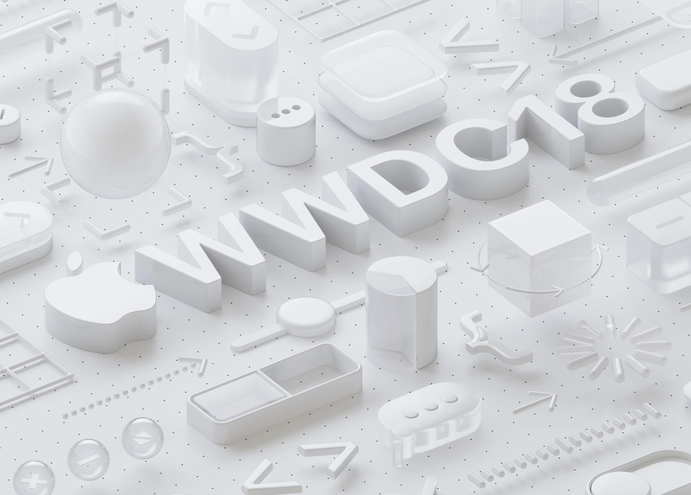 Apple confirms June 4-8 for their annual WWDC.
Bloomberg News suggests Apples WWDC 2018 will be unveiling new versions of its iPhone and Mac operating systems at the conference. Highlight announcement will likely be the combination of the app systems for iPhones and Macs. If true, this will give improved apps for Mac computers and has been rumoured for some time.
Exciting rumours include a refresh of the iOS graphical elements. Many commentators think the WWDC promo image (above) is an exciting indication that the UI will become more three dimensional. Previous WWDC imagery has been flat and this move is seen by many as an indicator of things to come.
WWDC provides an opportunity for millions of developers like Gooii Nottingham, to learn more about how to create new experiences across Apple's platforms. These include iPhone, iPad, Apple Watch, Apple TV, Mac and HomePod.
It also presents developer APIs, including SiriKit, HomeKit, HealthKit, GymKit, MusicKit, ResearchKit, and CoreML. This gives developers new ways to help users control and integrate their digital lives. Last year at WWDC Apple debuted ARKit, and since then, Gooi have been working on more ingenious AR solutions.
Ticket allocations to the conference are via a lottery. If you are very lucky to get one they will cost you £1,200 each. In addition to the ticket cost, is the travelling to San Jose, California. Therefore you can be forgiven for reading all the developments in the press! However, you can watch a live stream of the keynote speech via the Apple website.  Keep an eye out for Gooii News items and we will let you know when that is confirmed with a URL to follow.
You can view Apple's press release here.