Website design Nottingham, web programming and development company. Gooii website design Nottingham, web design company, Nottingham, Nottinghamshire, Derby, Derbyshire, Leicester, Leicestershire, London, East of England, North of England, South of England, West Country, Wales Scottland, Ireland, UK. We produce, websites, cd-roms, corporate id, logos, design, programming, digital, print, digital, iPhone, app, app design, iPad, mobile, Android, android app design, iOS, Flash, content managements systems, apple, microsoft, charity, education, corporate, VR, Virtual Reality, VR apps, Virtual Reality apps, VR video, virtual reality video

Our work
All, Web, Education, Org and Gov
WEBSITE
Equation – 'Respect Not Fear' Website
29th June 2011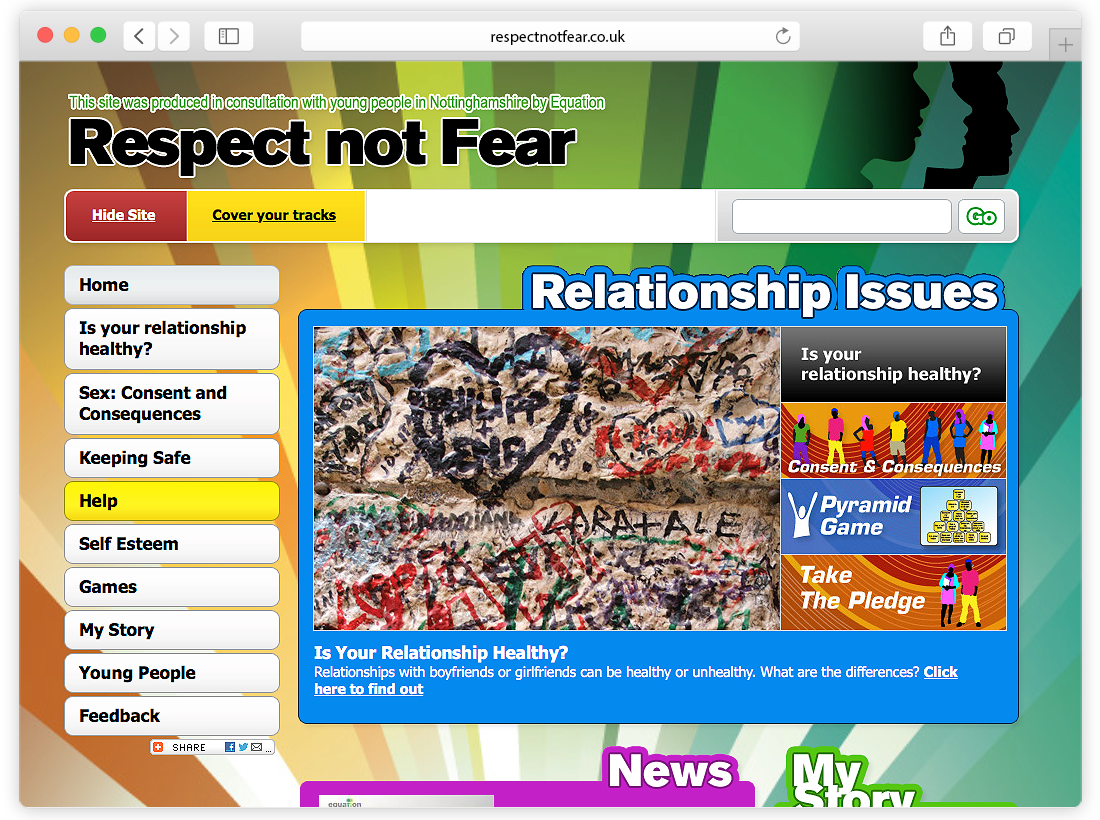 Respect Not Fear is one of the first of its kind in the UK. The site is aimed at young people experiencing domestic violence, whether they are the victims, perpetrators of domestic violence or know someone who is. The site is targeted at young people of, male and female, of all religious, ethnic and educational backgrounds.
Everybody deserves to have a healthy relationship with love, trust, good communication, shared interests, privacy, fun, laughter, loyalty, compliments, compromise and equality. This website looks at the healthy and non-healthy aspects of relationships, safety issues and provides support.
Gooii were commissioned to design and program the site for the Nottingham based Equation (formerly the Nottingham Domestic Violence Forum), which included a bespoke Content Management System and games. The website was produced in consultation with young people in Nottinghamshire.

To view the site visit: respectnotfear.co.uk