Website design Nottingham, web programming and development company. Gooii website design Nottingham, web design company, Nottingham, Nottinghamshire, Derby, Derbyshire, Leicester, Leicestershire, London, East of England, North of England, South of England, West Country, Wales Scottland, Ireland, UK. We produce, websites, cd-roms, corporate id, logos, design, programming, digital, print, digital, iPhone, app, app design, iPad, mobile, Android, android app design, iOS, Flash, content managements systems, apple, microsoft, charity, education, corporate, VR, Virtual Reality, VR apps, Virtual Reality apps, VR video, virtual reality video

News
Facebook Utilises VR & AI
3rd July 2018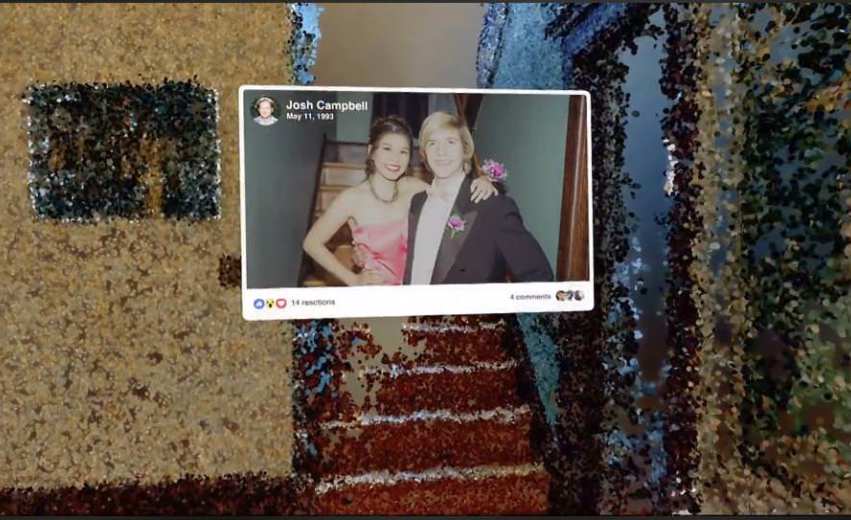 Virtual Reality memory generation
Facebook ended its conference recently with an amazing conceptual demonstrating of Virtual Reality and Artifical Intelligence being used to relive our memories.
Using computing vision, photogrammetry and machine-learning algorithms. The experimental technique takes your old photographs from the site and converts them from 2D to 3D "spaces".
Facebook's head of social VR, Rachel Franklin, says the feature is like "a Facebook album that has come to life".  A user can strap on a VR headset and delve into Facebook's version of your childhood home.  Scattered in this environment are thumbnails of photos and videos seamlessly embedded into the environment. Transport yourself back to your fathers 80th birthday or when your little sister turned 18.
It isn't at all clear how many images are needed for Facebook to create a virtual environment. Public spaces with plenty of images should be easy to pull together something amazing for VR. Considering the data Facebook has on its users, its not a major leap to consider that with friends who may also be tagged in photos, their images and video could also be used to enhance the experience too.
If you also wish to work with our talented web, app, Artificial Intelligence and Virtual/Augmented reality teams then please get in touch here.