Website design Nottingham, web programming and development company. Gooii website design Nottingham, web design company, Nottingham, Nottinghamshire, Derby, Derbyshire, Leicester, Leicestershire, London, East of England, North of England, South of England, West Country, Wales Scottland, Ireland, UK. We produce, websites, cd-roms, corporate id, logos, design, programming, digital, print, digital, iPhone, app, app design, iPad, mobile, Android, android app design, iOS, Flash, content managements systems, apple, microsoft, charity, education, corporate, VR, Virtual Reality, VR apps, Virtual Reality apps, VR video, virtual reality video

News
Gooii Built Site Wins Two Awards at the Corporate Engagement Awards 2012
25th September 2012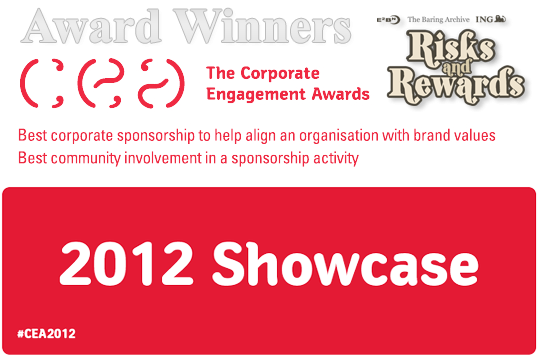 Risks and Rewards is a website that seeks to demystify the financial sector, designed and built by Gooii for E2BN, in partnership with The Baring Archive and ING. The website was recognised at the Corporate Engagement Awards on 18th September, where it won two silver awards in the categories of 'Best corporate sponsorship to help align an organisation with brand values' and 'Best community involvement in a sponsorship activity'.
The winners were announced at a celebratory banquet at the Victory Services Club, hosted by the BBC arts editor Will Gompertz.
ING's UK Head of Corporate Communications said: "ING believes in promoting financial literacy for all. We are really pleased that our support for The Baring Archive and the innovative use of its archive material, developed in partnership with E2BN, has been recognised with these awards."
Andrew Thomas, publisher of Communicate Magazine said: "This year's Corporate Engagement Awards saw a 48% increase in entries, but if quality could be expressed in percentage terms it would be much higher. All shortlisted companies have demonstrated a clear desire to fulfil their social contract; those that won, have excelled."
To view the full list of winners please visit the Corporate Engagement Awards website.