Website design Nottingham, web programming and development company. Gooii website design Nottingham, web design company, Nottingham, Nottinghamshire, Derby, Derbyshire, Leicester, Leicestershire, London, East of England, North of England, South of England, West Country, Wales Scottland, Ireland, UK. We produce, websites, cd-roms, corporate id, logos, design, programming, digital, print, digital, iPhone, app, app design, iPad, mobile, Android, android app design, iOS, Flash, content managements systems, apple, microsoft, charity, education, corporate, VR, Virtual Reality, VR apps, Virtual Reality apps, VR video, virtual reality video

Our work
All, Web, Culture, Data Visualisations, Org and Gov
WEBSITE
Royal Armouries Waterloo Timeline
1st July 2015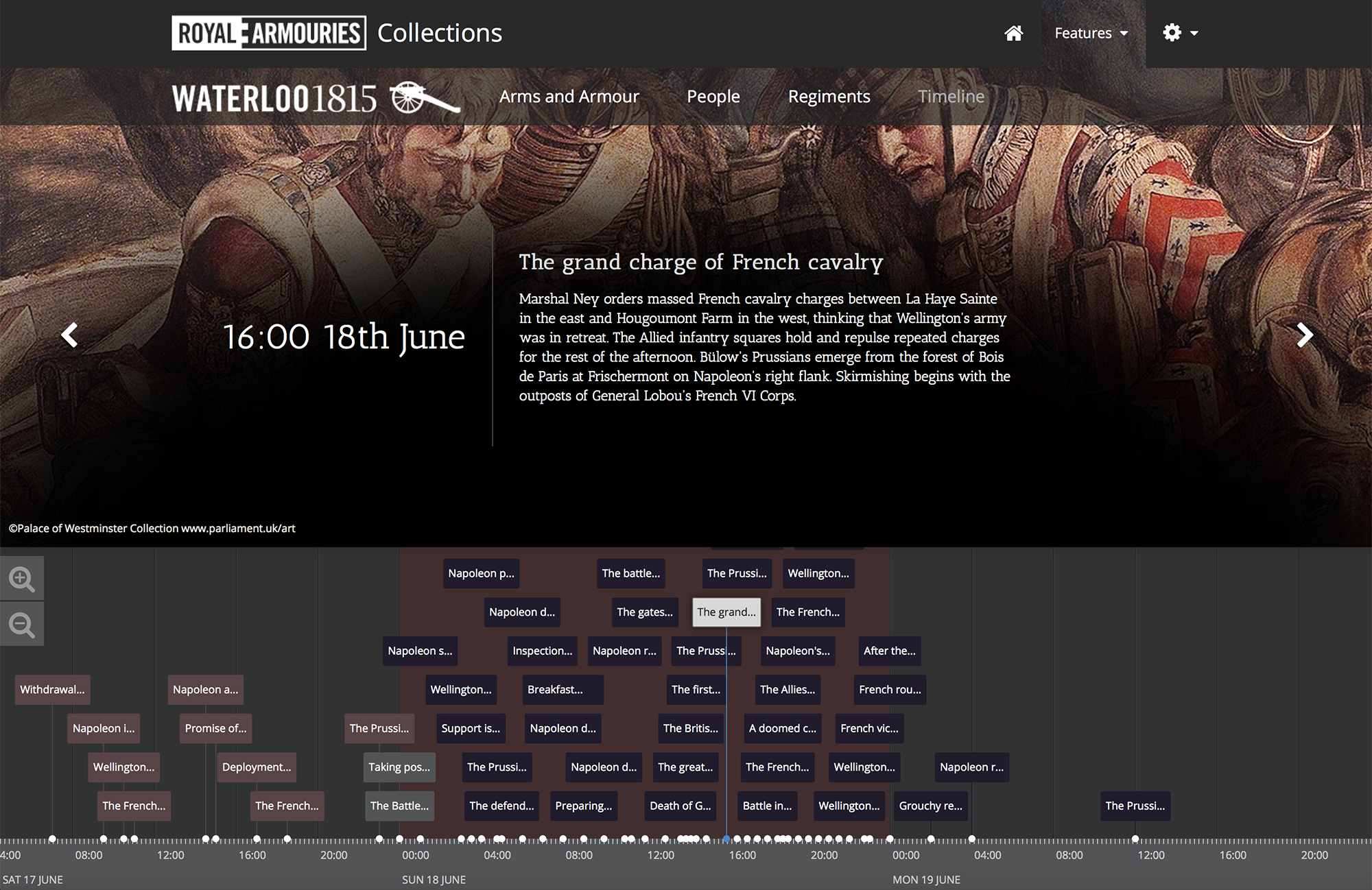 Royal Armouries data visualisation help celebrate the Battle of Waterloo
The Royal Armouries have been celebrating the 1815 Battle of Waterloo. Gooii has been working with them on a new feature page for the Collections Website including a beautiful visualisation.
On the 1st March 1815, after only eleven months of exile, Napoleon Bonaparte escaped his captors on the island of Elba. He landed in the south of France then returned to Paris to overthrow King Louis XVIII. Then regained his position as Emperor of France. This re-ignited a war that had raged across Europe since 1803.
This page is a celebration of that time. It features video streaming, arms and armour, weapons and the characters of that era. The Timeline allows users to move through a timeline containing key moments in the period regardless of device; desktop, tablet or mobile device.
A solution based on CIIM architecture with Javascript. All content is aggregated from the museum's collections management systems. This provide the best in terms of speed, performance and page visibility.