Learn how Gooii works collaboratively with its clients to deliver successful websites that help organisations meet their business objectives
A well-functioning and beautiful website can be one of your business's most powerful marketing tools. Not only are websites an insight into how your business operates, they enable you to reach thousands of potential customers.
Bespoke websites are sites that have been designed and built from scratch by a website developer for a specific business or purpose. Many businesses may be tempted to create websites using pre-designed templates with generic layouts, but crafting a bespoke website to suit your clients' exact needs can be much more beneficial for your business.
In this blog post, we speak to one of Gooii's website developers and directors, Nicky Johnson, who has developed outstanding websites for our clients including the RAF, Manx National Heritage Library & Archives and the The Royal Commission on the Ancient and Historical Monuments of Wales.
She will outline the step-by-step website design process and explain how our team of expert developers builds bespoke sites for our clients. She'll show you how we work together to create a functional and beautiful website that meets the needs of your target audience and increases your business sales or enquiries.
10 steps to our website design process
1. The client meeting
Understanding your vision and business objectives
The initial client meeting is one of the most important stages of a website design project. Building a website is a collaborative process and requires the developer and client to work closely together.
During the first meeting, it's important to go back to basics so that we can really understand what your website needs to deliver. We'll ask lots of questions and listen to your requirements. It will help us to set your expectations of the kind of website that will be delivered at the end of the project.
Some of the questions we might ask are:
"What is the site's functionality?"
What do you want the website to do? How does it need to be structured? Does it need to have an e-commerce function? Are there any other platforms it needs to integrate with?
A good example of a website that has many different functions is one we developed for The Royal Armouries. They required a website that was fit for their great history but was also focused on modern web users and devices. Utilising a mobile-first approach, Gooii designed and coded the site entirely in-house. Features included a full content management system, events planner and ticket purchasing system, blog, advanced search filtering and seamless integration with 'Collections Online', which we also developed.
"How do you want your website to look and feel?"
This will inform the 'design brief'. If you have examples of other sites you like the look of, we can use those as inspiration. At this stage we'd also require your brand guidelines to ensure the design fits in with any design rules, colours and fonts.
"Who is the target audience?"
How will your target audience be accessing the site? Will it predominantly be on a phone, desktop or tablet?
"What is the budget?"
This is an important question that will help us ascertain the kind of solution that we'll use to create your website and whether we can break the project into phases to meet any budget restrictions.
2. Design Brief
Your website should be an online representation of your business and it's essential that it fits with your existing branding. We'll look at your colour palette, typography, imagery, and overall style. If you're happy with your branding, we'll have this in mind at every stage of the design process. If you'd like it updating, we have plenty of experience in developing branding for our clients. For the charity Volunteer Global Health, we designed a new logo alongside a new website.
3. Research
It's important for us to understand where your business sits within your industry and we'll look at other businesses' websites to ascertain what works and what doesn't. We'll undertake extensive research, which will include competitor analysis, industry trends and user expectations when it comes to navigation, content, design and functionality.
4. Project Specification
We'll work out an agreed project specification that is designed to meet your design brief and budget. We'll decide if you require a bespoke site or a customised WordPress site (again dependent on budget and functionality) and explore different templates and whether they need to be customised.
Before delving into the visual design, for larger, bespoke projects we often provide the client with wireframes, which are illustrations that outline how the content will be arranged. This enables the client to get a feel for how the website will function, as well as the 'user journey', which is to do with how their target audience will navigate their website. These steps ensure that the website's functionality and user experience are well thought-out before investing time in detailed design work.
These concepts are then signed off before we progress to the design phase.
How we communicate with our clients during the website design process
Project management and all project communication is conducted through Basecamp. Various project phases will have been agreed in the specification and will coincide with payment milestones.
5. Visual design stage
This is when we start transforming concepts into a real design. We'll carefully craft a bespoke website that aligns with your existing branding. But it's crucial that we design a beautiful interface that is also going to function properly.
We'll present a variety of different homepage designs (the number of designs is dependent on budget). These designs will be amended based on your feedback and our advice, until a desired solution is reached. We'll also work on internal page templates. These will then be signed off by the client as we progress.
Whilst we're working with you to develop the design, we'll set up a 'staging site', which will look identical to the live website and will enable us to test changes and fix bugs during the build process.
6. Front-end development and bespoke coding
Our expert coders will begin constructing templates and bespoke functionality in WordPress. This involves writing HTML, CSS, and JavaScript code to transform the design into a functional website.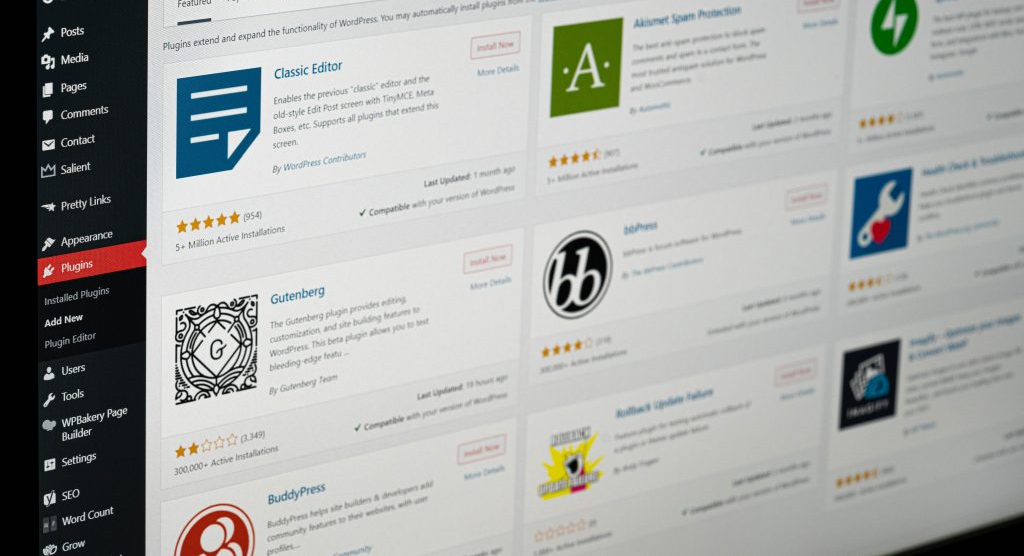 They will develop bespoke coding that ensures your website is responsive and accessible on a variety of devices. We'll also look at cross-browser compatibility, which means your website will be compatible for a variety of different internet browsers including Chrome, Microsoft Edge and Safari.
The website we designed for award-winning artist Patrick Goff had to adapt to mobiles, tablets and desktop so that his stunning artwork could be displayed across a range of devices.
Integrating databases into your website
If your organisation has a database or collection that needs integrating, we'll request a sample that will enable us to seamlessly include it in the website. If we are developing a new database, work will begin on that during the front-end development.
7. Populating the website with content
It will be up to you to supply or generate content for your website. We'll slot this into the design so that you can see your website come to life with your business information and tone of voice. If you're still working on it, we'll use latin text as a place holder.
8. Test, test and test again
Stringent testing takes place throughout the life of the project. Rigorous website testing and quality assurance to fix any bugs or usability concerns are integral steps before we 'go live' with your site. Clients sometimes carry out their own focus group testing as well.
Before we launch the site, we often go through an extensive live beta phase, which enables genuine real-world testing. We invite users to give feedback so that we can improve it.
9. Website launch day
Once all content is in place and the client is happy, the site is launched.
10. Training
We provide training for you to manage your website when we've finished the design.
WordPress and our bespoke websites are fantastic solutions for business owners who wish to be self-sufficient. Full training is provided to enable you to update your website with confidence. The WordPress platform has lots of fantastic standard plugins that can be used to give users advanced features at a low cost – we also install Yoast for search engine optimisation.
If your organisation requires us to update your site on a regular basis, we are happy to provide a bespoke quotation based on your individual requirements.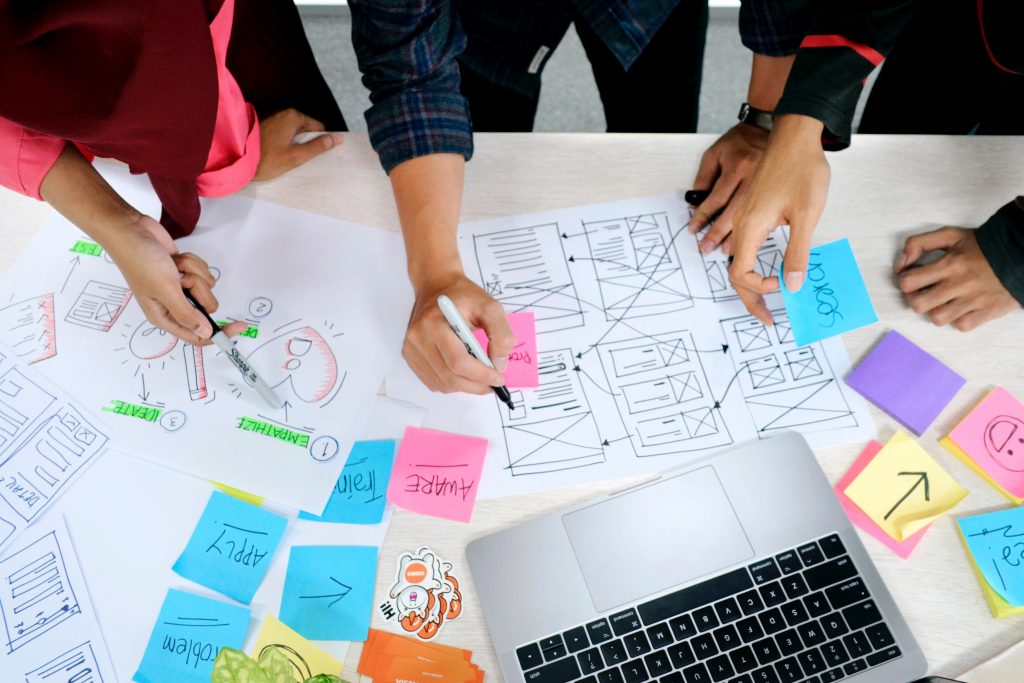 Our team of web developers and designers work collaboratively with clients to produce great-performing and eye-catching websites. The simple 10-step website design process enables us to immerse ourselves in your brand, taking time to get to know your business at the beginning, as well as supporting you in the long-term.
Get in touch with our team to enquire about a new website for your organisation.