Website design Nottingham, web programming and development company. Gooii website design Nottingham, web design company, Nottingham, Nottinghamshire, Derby, Derbyshire, Leicester, Leicestershire, London, East of England, North of England, South of England, West Country, Wales Scottland, Ireland, UK. We produce, websites, cd-roms, corporate id, logos, design, programming, digital, print, digital, iPhone, app, app design, iPad, mobile, Android, android app design, iOS, Flash, content managements systems, apple, microsoft, charity, education, corporate, VR, Virtual Reality, VR apps, Virtual Reality apps, VR video, virtual reality video

Our work
All, Web, Culture, Education, Org and Gov
WEBSITE
iMuseum Website Design and Programming
20th September 2016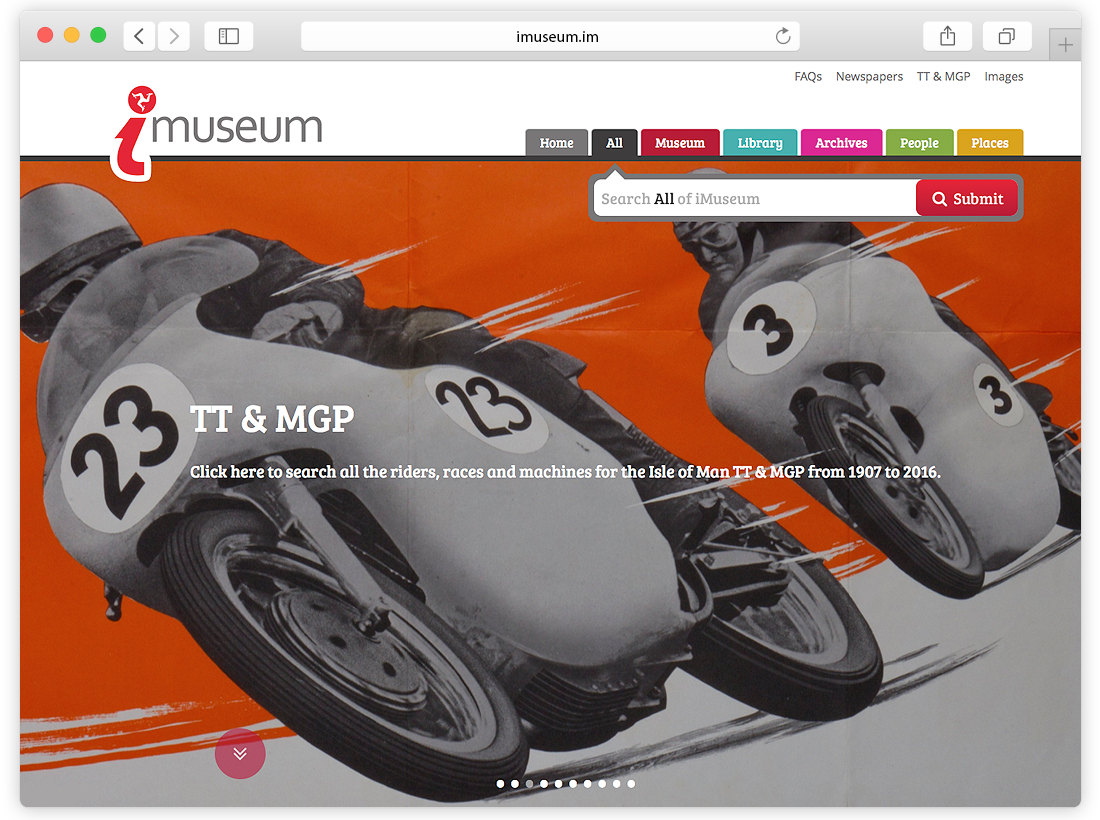 Manx National Heritage Library & Archives
The iMuseum website gives users free and growing online access to the Manx National Heritage Museum Collections, Manx National Heritage Library & Archives and the Isle of Man Sites & Monuments Record. The website also features a vast searchable database of almost a million records including census and people records, family history records, births, deaths, baptisms, first world war internees as well as a host of other museum and archive records dating back 150 years.
What Were Their Challenges?
iMuseum contacted Gooii to ask for their specialisation in website design connecting to large datasets to create a solution that was simple, easy to use and give quick public access to the archives. Since launch the site has been really well received by the user base who have been impressed with the speed and clarity of the data delivery.
How Did We Do It? The Tech Bit
The site uses WordPress as a content management system for publishing curatorial blog content, whilst the Object, Archive and Library records are queried from an Elasticsearch index which is populated via Knowledge Integration's middleware CIIM product, through a bespoke CodeIgniter search UI, with Zoomable imagery delivered through a customised OpenSeadragon instance. WordPress was selected because of their previous experience with this platform and how easy it is to modify and add new content by staff at the museum so they are more self sufficient going forward.
What Did They Say?
Here's what Jude Dicken, Information Manager at Manx National Heritage had to say about working with us:
"The team at Gooii have been great to work with, applying an imaginative response to our ideas; tweaking the look-and-feel of how information is delivered in response to user feedback; and providing expert online training and advice, making iMuseum responsive to smart phone and tablet by May 2016, a great turnaround."
To view the site please visit: imuseum.im
For more samples of our websites please see our YouTube Channel