Website design Nottingham, web programming and development company. Gooii website design Nottingham, web design company, Nottingham, Nottinghamshire, Derby, Derbyshire, Leicester, Leicestershire, London, East of England, North of England, South of England, West Country, Wales Scottland, Ireland, UK. We produce, websites, cd-roms, corporate id, logos, design, programming, digital, print, digital, iPhone, app, app design, iPad, mobile, Android, android app design, iOS, Flash, content managements systems, apple, microsoft, charity, education, corporate, VR, Virtual Reality, VR apps, Virtual Reality apps, VR video, virtual reality video

News
AR/VR, Commercial, Culture, Education
WEBSITE
Magic Leap Augmented Reality Headset Project
21st February 2020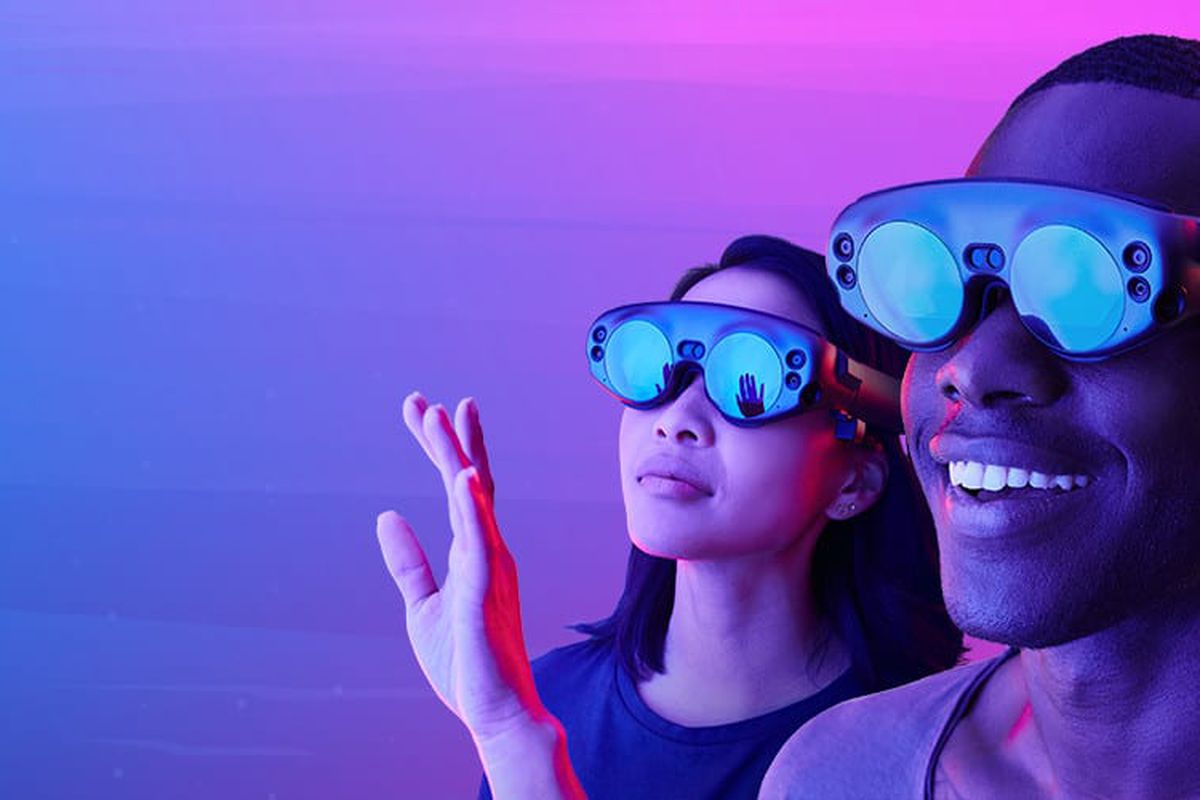 Magic Leap Augmented Reality Headset Project
We're currently working on a project using the amazing Magic Leap Augmented Reality headset. Whilst this may look like a Virtual Reality headset it's very different indeed. With VR you're in the environment created by the developers but with an AR headset you can see the world around you but interact with our virtual 3D creations.
The headset maps your room like The Matrix, so it can learn and interact with your environment. From here we can bring to life anything that we can dream of. Whether it be robots climbing out of portal and into your room; We can give you a lightsabre to fight the evil empire; bring Robin Hood and his Merry Men to life; we can make it rain in your living room; Or put a dinosaur in your office. The possibilities are endless.
Here at Gooii we believe that Mixed Reality headsets have the potential to revolutionise Augmented and Virtual Reality, by truly combining the two concepts and technologies. The skills and software we're using to develop Magic Leap apps are also totally transferable. Therefore, we can easily adapt our creations to Microsoft Hololens, Nreal or the rumoured upcoming Apple AR Glasses and Google Glass AR.
A Universe of Possibilities 
The technology is also perfect for film and TV promotion or education. Museum installations can be brought to life. The XR hardware is also perfect for training, engineering and medical purposes. Bring a movie to life, learn how to repair a space station, or conduct open heart surgery. Communication is also another untapped area, we can bring someone from the other side of the world into the room with you.
Headsets such as the Magic Leap or Hololens need to be seen to be believed. So, if you'd like a demo please contact us and we'll be happy to show you our impressive new tech.