Website design Nottingham, web programming and development company. Gooii website design Nottingham, web design company, Nottingham, Nottinghamshire, Derby, Derbyshire, Leicester, Leicestershire, London, East of England, North of England, South of England, West Country, Wales Scottland, Ireland, UK. We produce, websites, cd-roms, corporate id, logos, design, programming, digital, print, digital, iPhone, app, app design, iPad, mobile, Android, android app design, iOS, Flash, content managements systems, apple, microsoft, charity, education, corporate, VR, Virtual Reality, VR apps, Virtual Reality apps, VR video, virtual reality video

News
A Magic Leap For Augmented Reality?
23rd March 2018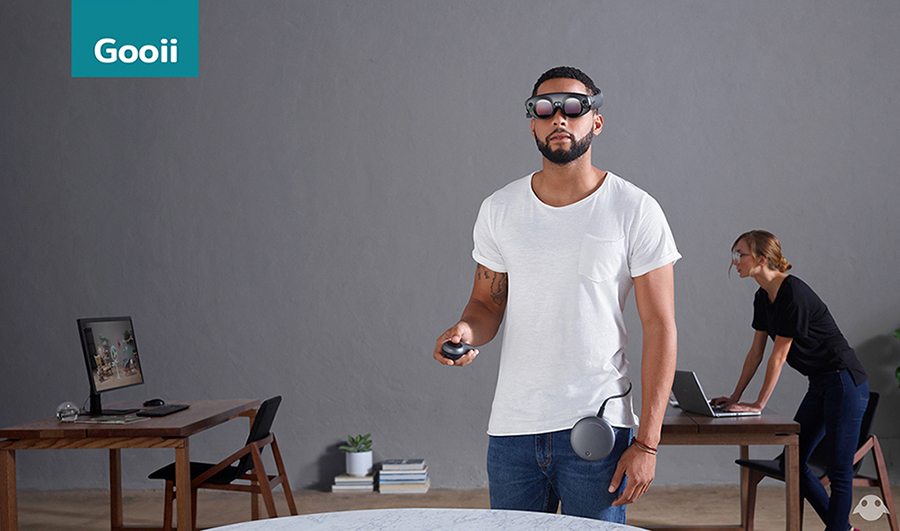 The latest advance in Augmented Reality with Magic Leap One.
This week Magic Leap announced the release of the SDK (Software Development Kit). This allows developers, like Gooii, to start creating amazing, realistic experiences using their revolutionary headsets. Our R&D team have been busy working away with the toolkit to see what amazing new services we can give our clients.
Magic Leap One is a retro-looking pair of black, goggle-like glasses which will mix digital images with reality. This gives an extremely realistic experience and is comfortable to view for a long time. This amazing technology involves the re-creation of light fields, which are the patterns created when light bounces off an object.
Magic Leap is based in South Florida where it has been working secretively on its headset technology. An initial concept shown in late 2014 included impressively rendered animals that genuinely appeared to exist in the same room. Powerful computers created the images rather than a head-mounted display at that time. However, with their £1.5BN funding they have now shrunk the technology down to a comfortable, wearable size.
An exciting aspect of this technology is that we can now delivery group alternative reality experiences. Consider if you are in a museum you can have a Star Trek style holodeck room. Visitors can all wear headsets, enter the empty space and start to explore multiple augmented reality experiences and interact together. Alternatively, those with interests in historical battles on land or sea can visit locations and view live overlays of battle movements and historical facts.
Watch an amazing example of how a school could provide these rich experiences is here.
If you would like to discuss an Augmented Reality development for your company please contact us today.