Website design Nottingham, web programming and development company. Gooii website design Nottingham, web design company, Nottingham, Nottinghamshire, Derby, Derbyshire, Leicester, Leicestershire, London, East of England, North of England, South of England, West Country, Wales Scottland, Ireland, UK. We produce, websites, cd-roms, corporate id, logos, design, programming, digital, print, digital, iPhone, app, app design, iPad, mobile, Android, android app design, iOS, Flash, content managements systems, apple, microsoft, charity, education, corporate, VR, Virtual Reality, VR apps, Virtual Reality apps, VR video, virtual reality video
News
Merry Christmas from Gooii!
20th December 2013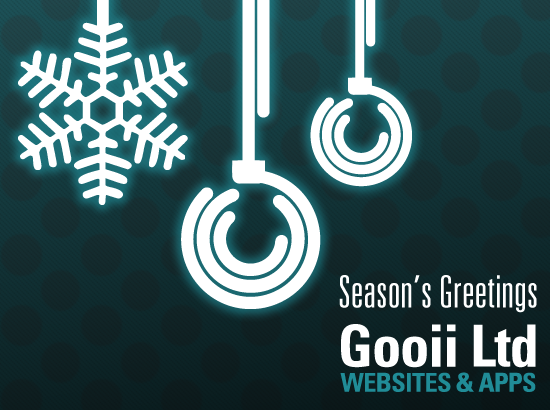 To all our clients, suppliers and associates may we take this opportunity to wish you a very merry Christmas! We've had a great year that has seen a wealth of new clients, as well an explosion in the app development side of our business. Thanks also to the loyal support of all our clients and we look forward to working with you again, in what's already shaping up to be a fantastic 2014!
A reminder of our Christmas closing times, we'll be shut from December 24th until we return on January 6th. During that period if you need to contact us please email [email protected] and we'll be in touch at the earliest opportunity.
Merry Christmas and a Happy New Year!