Website design Nottingham, web programming and development company. Gooii website design Nottingham, web design company, Nottingham, Nottinghamshire, Derby, Derbyshire, Leicester, Leicestershire, London, East of England, North of England, South of England, West Country, Wales Scottland, Ireland, UK. We produce, websites, cd-roms, corporate id, logos, design, programming, digital, print, digital, iPhone, app, app design, iPad, mobile, Android, android app design, iOS, Flash, content managements systems, apple, microsoft, charity, education, corporate, VR, Virtual Reality, VR apps, Virtual Reality apps, VR video, virtual reality video
Our work
All, Web, Commercial, Education, Org and Gov
WEBSITE
The Baring Archive 'ING Risks and Rewards' Website
24th May 2012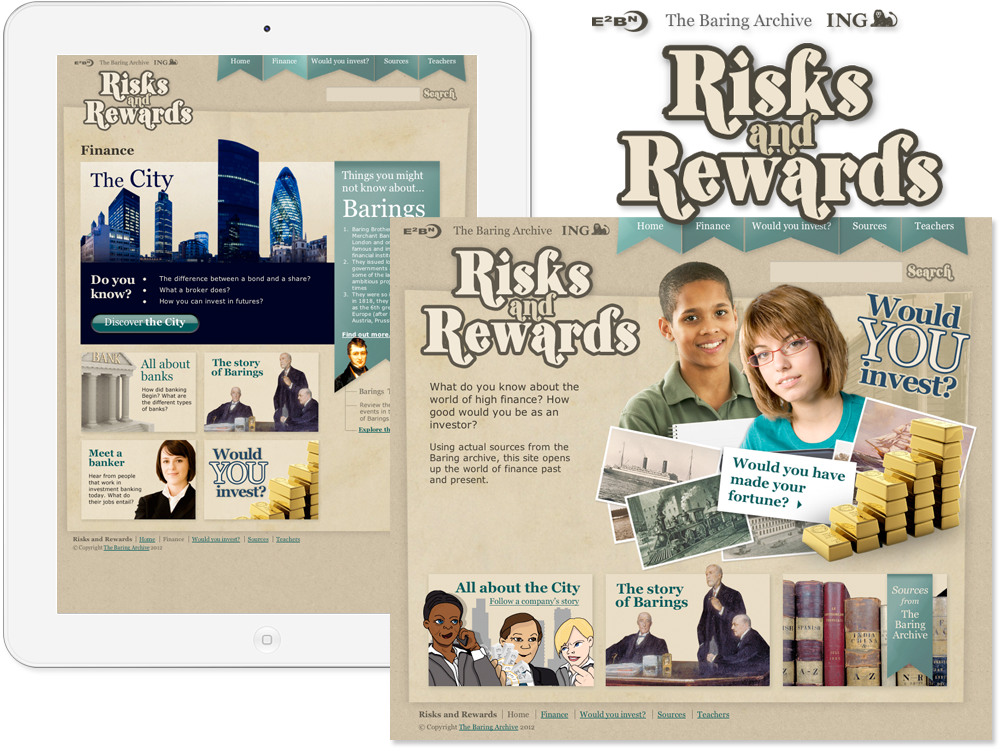 Risks and Rewards is a brand new website which aims to raise pupils' understanding of the financial world and help teachers tackle the education of financial capability and economic wellbeing.
At its heart is an interactive game where students have an opportunity to travel through time and try their hand at investment. There is also a detailed history of Barings, from its establishment as a merchant bank in 1762, through to its insolvency and acquisition by ING in 1995 and much more.
Launched on 15th May 2012 at ING Commercial Bank in London, the site was developed by Gooii for E2BN, The Baring Archive and ING. All content has been designed to work with iPad and makes use of HTML5 features and MP4 video to provide interactivity.
See the site at: www.risksandrewards.org.uk