Website design Nottingham, web programming and development company. Gooii website design Nottingham, web design company, Nottingham, Nottinghamshire, Derby, Derbyshire, Leicester, Leicestershire, London, East of England, North of England, South of England, West Country, Wales Scottland, Ireland, UK. We produce, websites, cd-roms, corporate id, logos, design, programming, digital, print, digital, iPhone, app, app design, iPad, mobile, Android, android app design, iOS, Flash, content managements systems, apple, microsoft, charity, education, corporate, VR, Virtual Reality, VR apps, Virtual Reality apps, VR video, virtual reality video

Our work
Apps, Web, Culture, Education, Org and Gov
WEBSITE
The University of Cambridge 'Culture Finder' Website and Web App
9th March 2015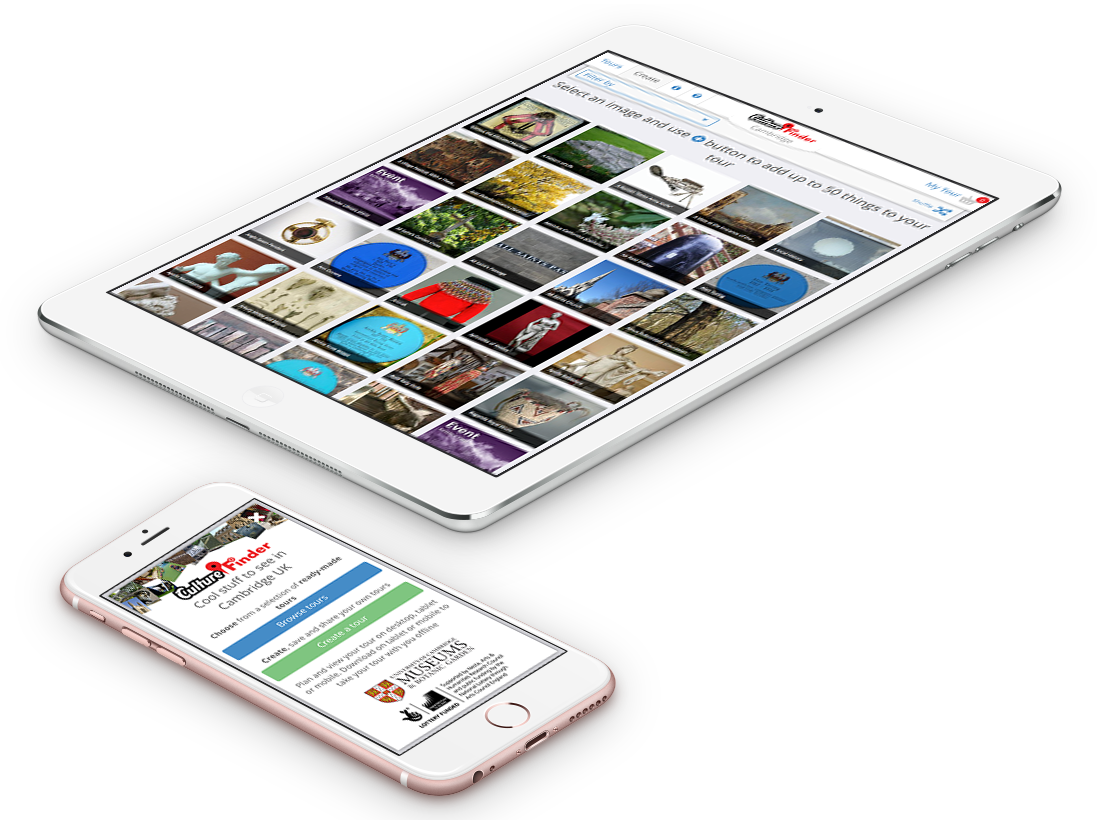 Culture Finder is intended to help visitors to Cambridge plan their own tour. The central idea has been to focus on things (which might be museum objects, artworks or art events) rather than just venues or places, and build in some chance discoveries along the way.
Visitors can browse a selection of university curated tours, user published tours or can create tours of their own. The tour route is then shown on a map which can be printed out if required.
The website has all been designed with mobile users in mind, so rather than being a website with responsive templates the design has been led by mobile and tablet technology. One great feature is the ability to view the site after first use when offline, further closing the gap between websites and apps.
Culture Finder has been developed with the help of the Digital R&D Fund for the arts (Arts Council England, Arts and Humanities Research Council and Nesta) and was a collaboration between Gooii, Knowledge Integration, The Collections Trust, The Fitzwilliam Museum and the University of Cambridge. Key technologies include: HTML5, CSS3, AngularJS, OpenStreetMap, couchDB and PHP.