App development: a wireless app-controlled smoke detector system for warehouses 
Project summary
The Fire Beam BLUE app enables engineers to control conventional beam detectors using an app on an iPhone, iPad or Android phone or tablet. The Fire Beam is an optical beam smoke detector that's often used in warehouses or buildings with high ceilings. Once installed, the location of the beam detectors makes them very difficult to reach. The new Fire Beam BLUE app eliminates this restriction by connecting with a smoke detector via Bluetooth, which enables engineers to set up and configure the device (similar to how we connect to NEST and Hive thermostats using 'smart home apps'). 
The smoke detector sends an infrared beam to a prism at the opposite end of a room. If the beam is broken by smoke, it triggers a fire alarm, which can be managed via the app.
Fire Beam BLUE is the only smoke detector of its kind to have an app controller. Previously, commissioning engineers would need to use a cherry picker to set up and make any adjustments via a hard-wired unit. With Fire Beam BLUE this can be done entirely using the app, which was designed and developed in-house at Gooii.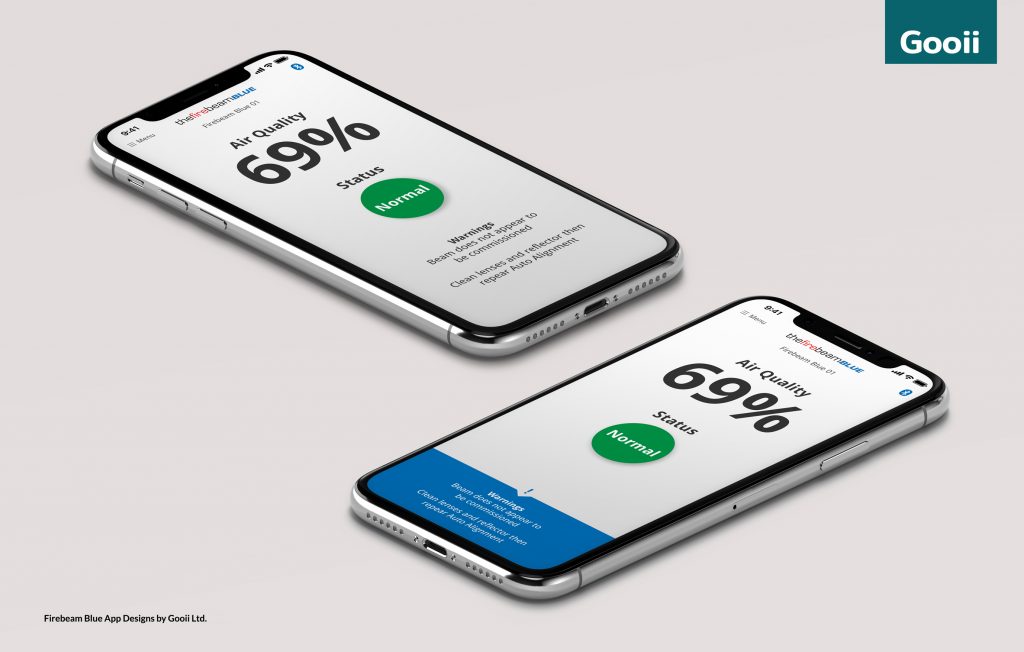 The client
The Fire Beam Company makes optical smoke detectors for engineers to install, configure and operate in large commercial buildings such as warehouses. 
The app development brief
The client asked us to create an app to replace the existing wired method of connecting to the smoke detector. They wanted to be able to set up and commission the Fire Beam unit entirely via an app, which would modernise the installation and operation of the system. Engineers also needed to be able to control, customise and manage the detectors via the app.
It was essential for us to retain the wired controller's incredibly complex functions. The engineers were very familiar with the old system, so we had to ensure that moving to an app wouldn't be too much of a big departure. This meant that the app's user experience (UX) was key as we had to innovate and provide familiarity. 
Key Gooii deliverables:
An app that connects to new Bluetooth hardware and firmware built by Touché Technology.

A user-friendly interface that graphically represents the status of the Fire Beam device. 
Project status
The Fire Beam BLUE app has been launched and is in use. We're developing new updates, including the ability to passcode the Fire Beam unit from within the app to provide additional security.
Project partners and consultants
We worked for consultants Converge PD Ltd, which managed the process and specified the requirements for Fire Beam.
Jon Ben, Director at ConvergePD Ltd, said: "ConvergePD Ltd provides a complete product development service to its clients in life-safety and industrial product markets. To be able to succeed, we partner with high quality and reliable specialist suppliers in the fields of electronics and software development. 

"We have been working closely with Gooii over the last 2-3 years on one such project and relied upon their deep experience and knowledge in app development to produce an app for multiple platforms that has complex functionality, engaging design and high reliability. 

"For future app development and associated support, we would not hesitate to approach Gooii."
We also worked with Touché Technology who developed the bluetooth hardware. Additionally, Touché helped us learn and understand the new firmware they developed for Fire Beam BLUE.
Our app development procees for the Fire Beam BLUE using Bluetooth technology
The Internet of Things (IoT) is the network of connected devices and the technology that enables them to communicate. We connect our apps to physical devices via Bluetooth, NFC or WiFi.
We used Bluetooth technology to wirelessly connect the app to the Fire Beam BLUE device. 
In order to communicate with the device, we had to learn the new Bluetooth protocols. This included reading the device and displaying its values in the app, sending data back to the device, adjusting its settings and managing its smoke alarms.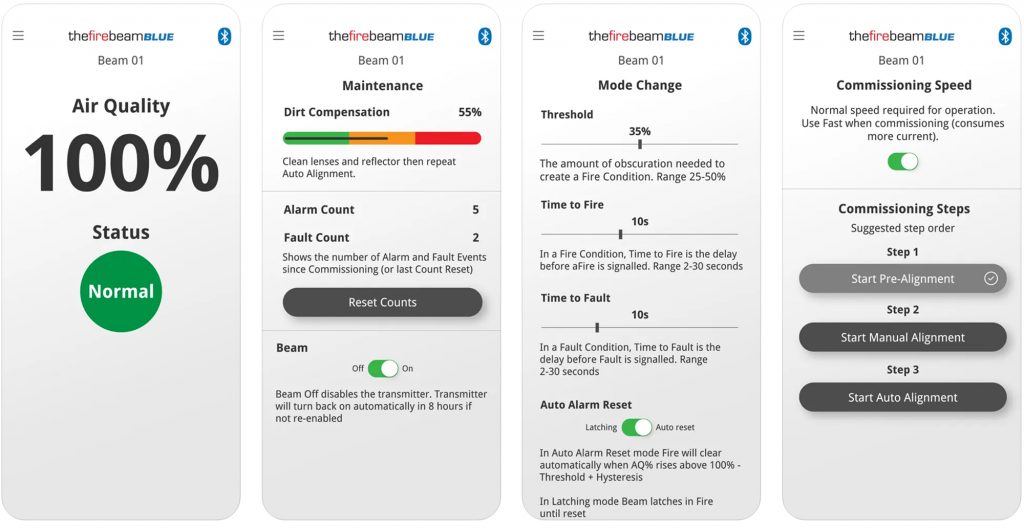 Benefits of Fire Beam BLUE and app-controlled smoke detectors
No need for WiFi or mobile networks 
One of the key benefits is the use of Bluetooth to connect directly to the units. This means engineers don't have to worry about using wifi or mobile networks, which can be particularly tricky in retail and warehouse environments. Commissioning is now faster and easier than ever before as it can be done on the ground and not using a wired unit.
User-friendly app interface
The Fire Beam BLUE app has a more user-friendly interface compared to the wired unit. It had a small black and white LCD screen that could only display alphanumeric characters and had a limited number of buttons. This has been replaced by a full colour and intuitive graphical user interface.
No special hardware required
Without an app, any changes that are needed after installation require an engineer to use a cherry picker to get to the units. This used to be a very complex and time-consuming process. Now the device can be commissioned at any time and directly from the ground.
One app to control all detectors
Previously, engineers had a different controller for every smoke detector. The Fire Beam BLUE enables them to control and commission every single detector from one app. This is achieved by the Fire Beam BLUE app searching for all compatible devices in the location.
Save on installation time
Large warehouses have multiple smoke detectors and controllers. With the Fire Beam BLUE app, engineers no longer need to spend time accessing hard to reach controllers. We're also able to update the app to provide new features and improvements without the need to update the hardware. Additionally, when new hardware is released we can ensure all Fire Beam BLUE devices within the range are supported by the one app.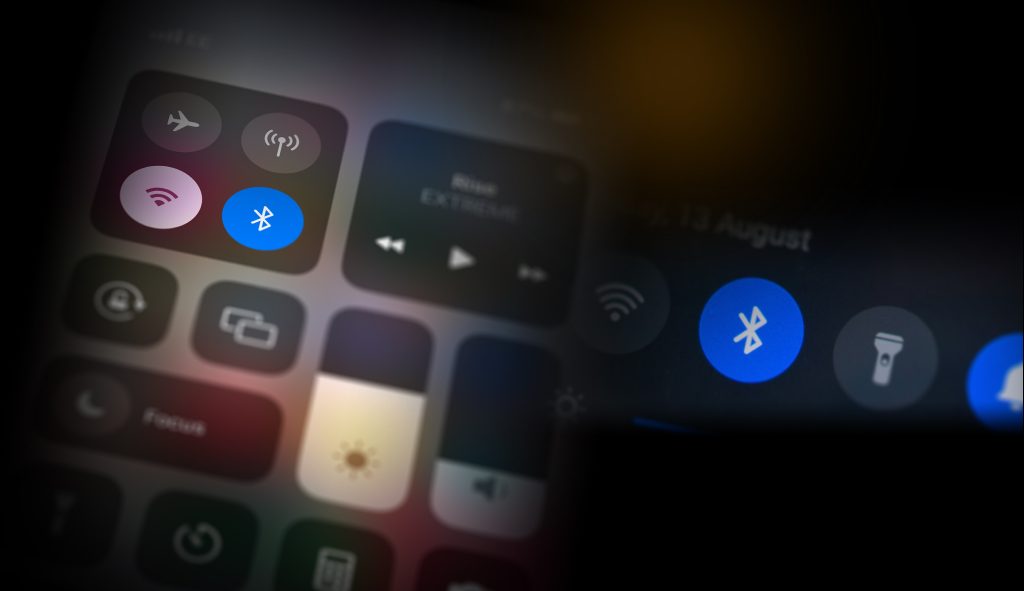 How to use app-controlled electronic devices in your industry
Using this Bluetooth technology, Gooii is able to develop apps for any electronic device that is controlled manually, via remote control or a built-in control. Gooii can build bespoke solutions that allow companies and end users to manage and control their devices remotely using an iOS or Android app. 
These can be developed for a variety of industries. The technology can be adapted to control thermostats, boilers and heating equipment, kitchen appliances, security devices and audio equipment. The possibilities are endless. We're proud to be at the forefront of developing the Internet of Things devices and are constantly working hard to develop new technologies that enable business to operate more efficiently. 
If you'd like to discuss an app-controlled device for your business, please get in touch. Head to our app webpage to discover more of our app development projects.