Digital receipts app uses NFC technology to reduce retail's environmental impact

A cloud-based app for retailers to seamlessly transfer customer receipts to mobile phones
A digital receipts app is a common replacement for the paper receipts given in store.
Project summary
NOUMI was developed for retailers to provide a contactless method of transferring receipts directly to a customer's phone. 
The main aims of the NOUMI app were to: 
Reduce the environmental impact of paper receipts 

Reduce the millions of pounds retailers spend on receipts

Ensure customers never lose a receipt again.

The client
NOUMI was set up by Shakir Lincoln from BP Digital, who saw a gap in the market for this technology.
The brief
Gooii was asked to develop a contactless method of collecting receipts, using the latest app and Near-Field Communication (NFC) technologies. The app also needed to be as simple and fast as possible for users, enhancing the User Experience (UX) for high-street consumers. 
Key Gooii deliverables:
NOUMI app for iPhone and Android phones

Cloud-based system for receipt storage 

A backend system allowing NOUMI to view and manage the product we built for them.

Project status
Working with Touché Technology, which developed the NFC hardware, the app is currently in the 'proof-of-concept' and testing stage and has been passed to NOUMI for commercialisation. Developed as a Minimum Viable Product (MVP), the app was delivered to NOUMI to gain business investment. NOUMI were successful in achieving their goal and are now taking the project forward.
Project partners
We worked with Touché Technology to develop a connected product from concept-to-market. This collaboration enabled us to combine Gooii's creative and app development skills, with Touché's electronics and firmware expertise.
We partner with Touché Technology on projects that involve the Internet of Things (IoT), which is the network of connected devices and the technology that enables communication between devices and the cloud. With Touché, this predominantly involves connecting our apps to their physical devices either via bluetooth or NFC, but could also include wifi. Gooii has developed a number of projects with Touché Technology, including the Firebeam Blue app.
Phil Hasted, Director at Gooii, said: "In today's world, consumers expect more and more products to be 'connected', allowing them to control and monitor everything via the internet. To achieve this, products that were once completely standalone now include wireless connectivity and can be accompanied by a mobile app and cloud backend system. Developing cloud technology can be daunting for many companies that are more used to working in isolated situations. This is where Gooii and Touché come in – we have the knowledge, experience and know-how to make the process much easier and quicker."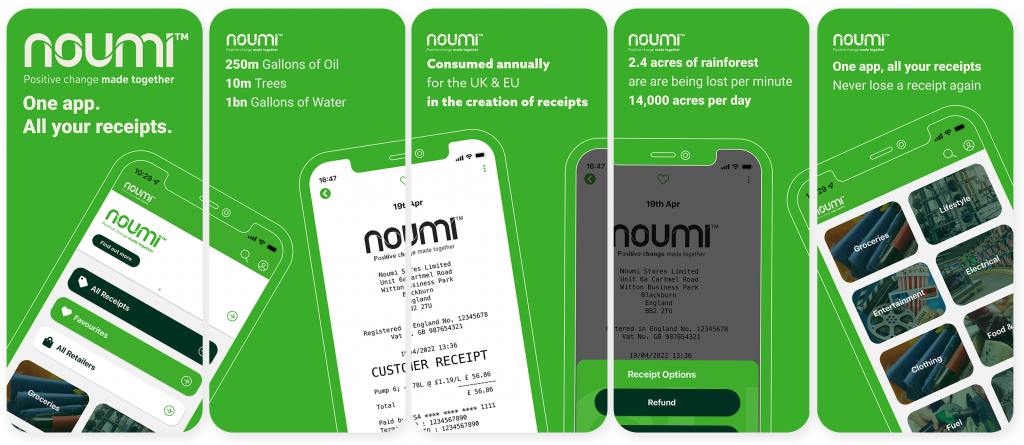 How we developed the NOUMI digital receipts app
In addition to the design and development stages that come as standard with Gooii, we worked hard to streamline the app to make the process as fast and as simple as making a contactless payment. 
The translation of printer code was key to the development. Our in-house developers reverse engineered and learnt the printer code, so that it could be sent to the phone and translated and represented visually by the NOUMI app.
What is printer code?
In technical terms, printer code is what a computer sends to a printer to tell it what to print, in this case, a receipt. We used 'Epson Standard Code for Printers' (ESC/POS) to translate the code sent to a till receipt printer otherwise known as an EPOS printer. 
How do you send receipts to an app instead of a printer?
To put it simply, we intercept the printer code sent from the till via a Near-Field Communication (NFC) device  (more on this later). Then instead of printing the receipt using a traditional till receipt printer, we send this to the NOUMI app – think of it as being the same action as making a contactless payment, except instead you're collecting a receipt. We reverse engineer the code, which is then compiled and displayed in the app as a virtual representation of a physical receipt. This is made up of text, images, barcodes and QR codes – all using bespoke code created by our extremely talented app developers.
The device, which was developed by Touché, plugs into existing retail environments and sits between the till and EPOS receipt printer. This provides a fantastic USP as retailers don't need to change their systems – all they need to do is plug-in the NOUMI NFC device and they're ready to go.
How we used Near-Field Communication technology to create the NOUMI app
We used NFC technology to transfer receipts from the store's till printer to a mobile phone, enabling customers to store their receipts together in one app.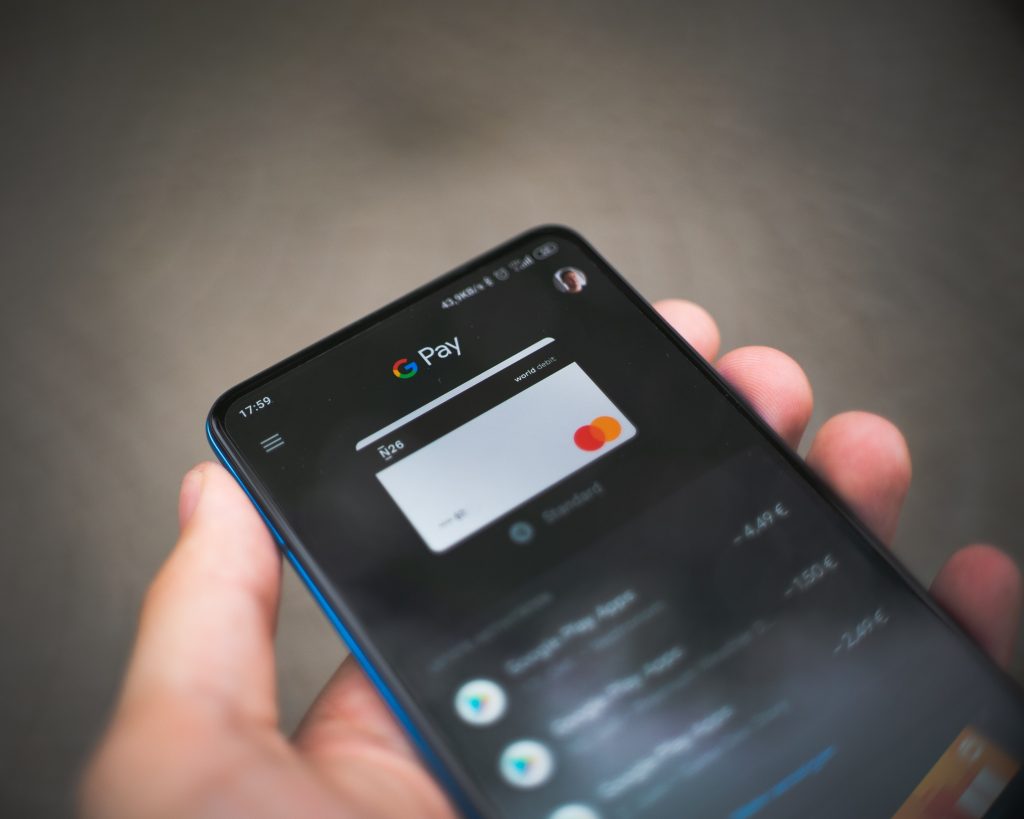 What is NFC technology?
Near-Field Communication (NFC) technology is how we make contactless payments. It connects wireless devices that are in close proximity to each other using an NFC tag or device and transfers data between them. NFC tags, for example, are stored in debit cards and we 'tap' these onto an electronic wireless device, such as a card reader, or in this case, the NOUMI device. 
With NOUMI, the receipt data is sent from the till, to the device and you tap your phone (with its in-built NFC components) to the device and the data is transferred to the NOUMI app. 
Benefits of NOUMI and digital receipts apps
Environmental benefits of paperless receipts
Digital receipts are an important technology for business owners who are serious about investing in environmentally conscious retail solutions. There are huge environmental benefits for apps that enable digital receipts. 
In the UK, more than 11 billion receipts are printed each year and most of these can't be recycled. The production of receipts uses millions of trees and gallons of water, equating to acres of rainforests being lost. 
Improves the contactless shopping experience
Retail is fast becoming a contactless market, particularly in a post-Covid world. It's thought that the contactless payments market will reach $164.15 billion by 2030. NFC is one of the main technologies to drive this growth. 
'Zero-touch retail' is rapidly expanding as many retailers look to minimise interactions between shoppers and staff. Contactless payments have revolutionised the modern shopping experience and apps like NOUMI enable retailers to keep the entire transaction experience completely contactless. 
Brick and mortar stores can use digital receipts to compete with e-commerce retail
It's no secret that brick and mortar stores need to keep up with the rapid soar of e-commerce and online shopping. E-commerce sales hit $1 trillion for the first time in 2022. Its convenience and speed mean consumers are less and less likely to want to spend time browsing in a physical shop. 
Brick and mortar stores need to create faster, greener, easier, more seamless shopping experiences in order to keep up with the retail industry's digital innovations. Just think of self-checkouts and brands that are now appearing in the metaverse. 
Enabling a receipt to pop up on a mobile phone app rather than being crumpled into a purse or wallet (or lost), is an easy way of modernising the experience for consumers who are so used to buying products at the click of a button. 
Save your customers' time
Convenience is king when it comes to improving customer satisfaction. Digital receipts apps like NOUMI help speed up and improve customers' lives, reducing time spent in store and organising their finances at home.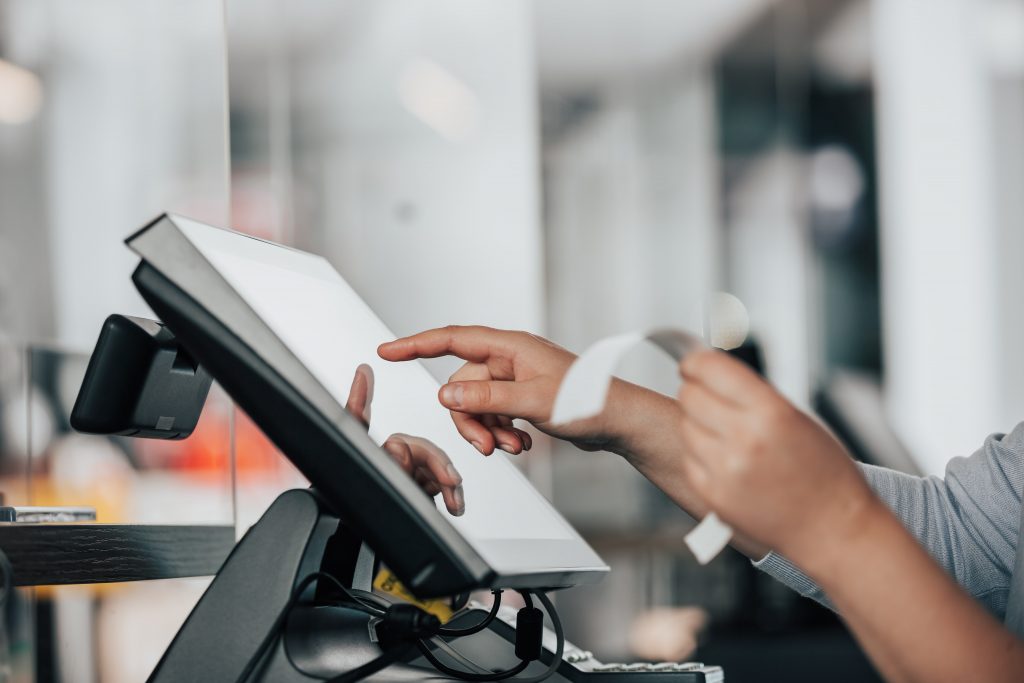 Retailers don't require new software and don't need to change their retail system
With the NOUMI app, a receipt is transferred via NFC straight to your phone. The device plugs into existing retail environments and sits between the till and EPOS receipt printer. This means all that's required is the NFC device to be plugged in between the till and printer, meaning retailers don't require new software and they don't need to change their current retail systems. This simple but ingenious infrastructure means integration with NOUMI is effortless to implement.
Immediate storage and access to receipts 
Let's face it, most paper receipts are thrown in the bin and it's always too late by the time we realise we need them. Most of us don't file away our receipts. NOUMI does this for you with a simple tap. 
Receipts are sent straight to your phone, so they are available to view immediately and are saved within the NOUMI app. This means there's no waiting for the receipt to be sent via email, or an external system where it can be lost via a misspelled email address or delayed by a slow system. The consumer can have 100% confidence that they have their receipt. Gooii were also passionate about ensuring the NOUMI app still functions offline, so receipts can be collected even if the warehouse you're shopping in has no mobile signal or wifi.
There are many other apps that allow you to scan receipts and save them digitally, but with NOUMI, there's no need to take a photo of your receipt or to scan the information. It's all done seamlessly in one tap in the exchange of data between devices. It's also locked to the retailer through an automatic management process in the app and in the cloud system we developed.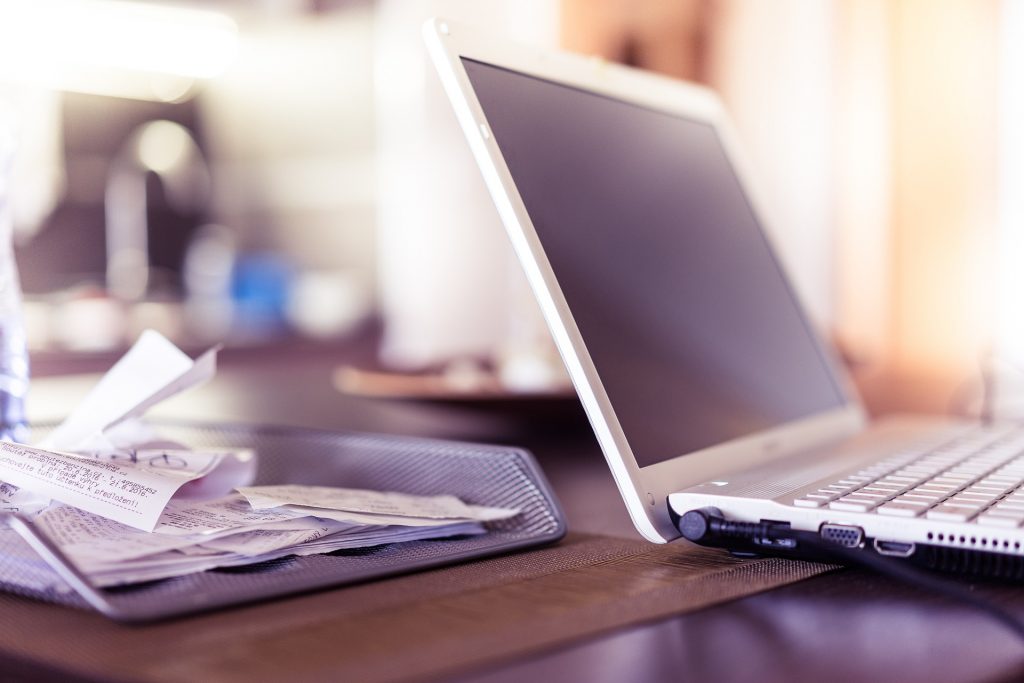 No need to sort through receipts
Electronic receipts make accounting significantly quicker and more transparent for business' tax returns. 
The receipt data is fully searchable and sent to our cloud servers, which turns searching for specific expenses into a very quick task, rather than sorting through piles of paper. This can really optimise your workflow and save you many crucial hours. 
Secure storage 
Receipts are sent to the cloud and stored securely against the user's account, ensuring that even if they delete the app or change their phone, they can still retrieve their receipts. Additionally, when we send the receipt data to the cloud system we developed, we break down the receipt into its individual component parts including all lines of text, images and any QR or barcodes. These can then be sent back to the phone and displayed as a visual receipt. This ensures shoppers never lose their receipts and can always retrieve them quickly and seamlessly.
Protects customers and employees from BPA
Although many countries have banned the harmful chemical bisphenol A (BPA) from the thermal paper often used in the production of receipts, bisphenol chemicals are still often found on receipt paper. This chemical also prevents receipts from being recycled, with many people unaware they most receipts can't be recycled and they could be contaminating their recycling.
Easy export
Customers can also export receipts for expenses purposes, as well as using the NFC device to print them out in stores in order to complete a return.
Customer loyalty schemes and vouchers
This system also allows vouchers to be collected and stored with the receipts. In order to facilitate this, our developers learned how to translate QR codes and barcodes back from printer code into a readable and scannable image. These can be transferred to the app individually or collected with the receipt. Voucher codes can also be stored in our cloud systems, making them hugely flexible and convenient. 
Offline access for stores with no mobile internet access
The app was also designed to work offline, enabling receipts to still be collected even if the customer has no mobile internet access, for example if purchasing in a warehouse or in a rural location. The receipts are then stored locally until an internet connection becomes available, at which point they are mirrored on the cloud server. This is a big USP over other digital receipt solutions, where many require an internet connection to collect the receipt, and it's something Gooii felt very strongly about ensuring it could be achieved. Additionally, there's no waiting for your receipt or worrying that the shop assistant typed your email address correctly, as you have it instantly.
Cost reduction for retailers
Introducing a paperless receipt system in your retail store means reduced spend on receipt printing technology and paper. The app is also free for customers to download, which reduces retailer development costs.
How to use this technology in your industry
The NFC technology and coding skills required for apps like NOUMI create endless possibilities for the retail industry. The specific expertise used for NOUMI enables Gooii to create app solutions that improve customers' lives and speed up shopping experiences. In addition to NOUMI's collection functionality, Gooii technologies can be used to develop apps for e-commerce and can be combined with our mobile ticketing technologies to create unique retail opportunities and improve customer satisfaction. 
Get in touch if you'd like to discuss how we could develop retail apps and experiences for your business.