Website design Nottingham, web programming and development company. Gooii website design Nottingham, web design company, Nottingham, Nottinghamshire, Derby, Derbyshire, Leicester, Leicestershire, London, East of England, North of England, South of England, West Country, Wales Scottland, Ireland, UK. We produce, websites, cd-roms, corporate id, logos, design, programming, digital, print, digital, iPhone, app, app design, iPad, mobile, Android, android app design, iOS, Flash, content managements systems, apple, microsoft, charity, education, corporate, VR, Virtual Reality, VR apps, Virtual Reality apps, VR video, virtual reality video

News
All, Transport & Ticketing, Web, Commercial, Org and Gov
WEBSITE
Nottingham Contactless Website
21st December 2020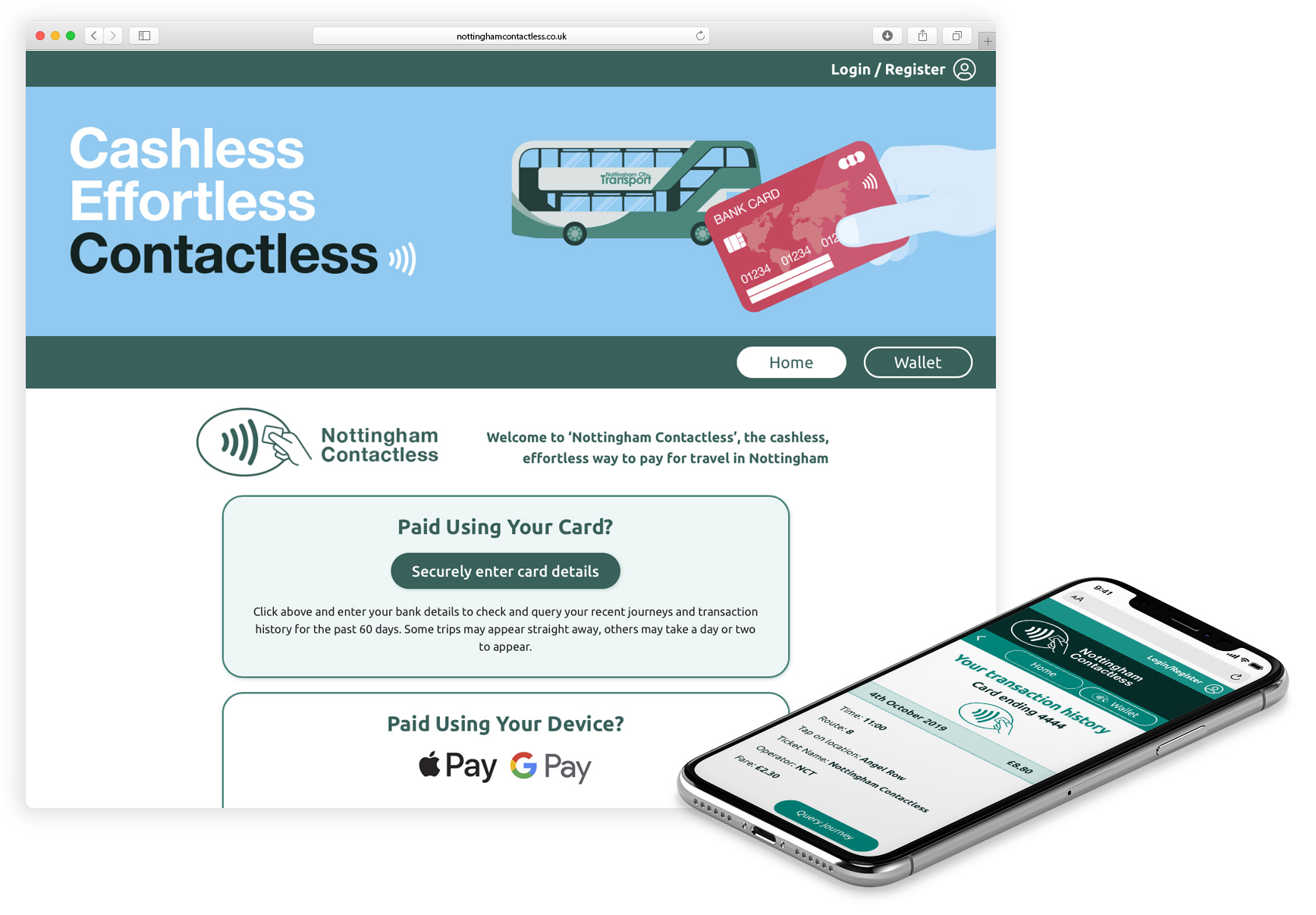 Nottingham Contactless Website
In addition to the NETGO! app for Tramlink Nottingham, Gooii further strengthens our work in the transport sector with the Nottingham Contactless website.
Nottingham Contactless is the cashless, effortless way to pay for travel. A partnership between Nottingham City Council, Nottingham City Transport, NET and Linkbus services.
Key to the site is ease-of-use and speed. Core site functionality is also front and centre. The first thing users see when visiting the site is the option to enter your card details in order to retrieve journeys and transactions. This was incredibly important f0r reducing customer service enquiries.
Nottingham City Transport buses are now live with adult pay as you go cashless payments, with NET and Linkbus services to follow.
Specifically, there's no need to ask the driver for a ticket. The system will automatically calculate the best price for the journeys you make during a day, capping at the same price as the equivalent day ticket.
Key Features
Working with INIT, who built the ticketing infrastructure, the website allows customers to:
Enter card details to view travel histories and cashless payments
Core functionality presented front-and-centre
Calculates capped payment for each day's travel
High levels of accessibility
Integrates with the Payment Service Provider to return secure PCI compliance to transactions
Wallet feature, so that credit card details don't need to be entered on each visit
Query a journey; Allow customers to query transactions
See the progress of your queries
View the last 30 days history
Reduces customer service enquires
Admin system to aid customer service queries, including customer service front-end.
Celebrating the launch, NCT Marketing and Communications Director, Nicola Tidy said, "The launch of adult pay as you go contactless payments offers our customers a cashless, convenient way to pay for their bus journeys. By simply tapping their contactless card or device on the bus each time they board, the contactless system does the hard work by adding up their journeys and charging customers based on their journeys during the day".
For more info on the Nottingham Contactless scheme visit: itsinnottingham.com/features/nct-go-contactless/
To view the Nottingham Contactless site visit: nottinghamcontactless.co.uk