The rise of mobile ticketing
Why should the transport industry invest in mobile ticketing? First of all, we're living in the age of convenience, where smartphones are an integral part of modern daily life. Smartphones don't just make phone calls, they're our alarms, calculators, high-tech cameras, meditation aids, finance managers, entertainment sources, news readers – and they're fast becoming our wallets. Many people are making purchases using their phone, using Apple Pay or Google Pay. And this is set to increase within the transport and events industries because of new technology for NFC chips and e-wallets (or 'digital wallets'). 
We have a wealth of experience in developing mobile ticketing solutions for the transport industry, so we thought we'd look at the technology in more detail and break down some of the key terms.

What is mobile ticketing?
A new study from Juniper Research found that mobile ticketing users will total 1.9 billion by 2023. And we can see why.
With mobile ticketing, or 'smart ticketing', your phone is your ticket – everything is in one place. Many of us are already so used to having our debit cards connected to our Apple Pay or Google Pay in our mobile wallets. Mobile tickets enable customers to add their tickets to their phone in these same locations. 
It's important to note that mobile ticketing shouldn't be confused with e-tickets, which are simply tickets issued electronically as a PDF, like in an email, that can be printed out. Mobile ticketing is a separate technology. In fact, mobile ticketing is fastly replacing print-at-home e-tickets.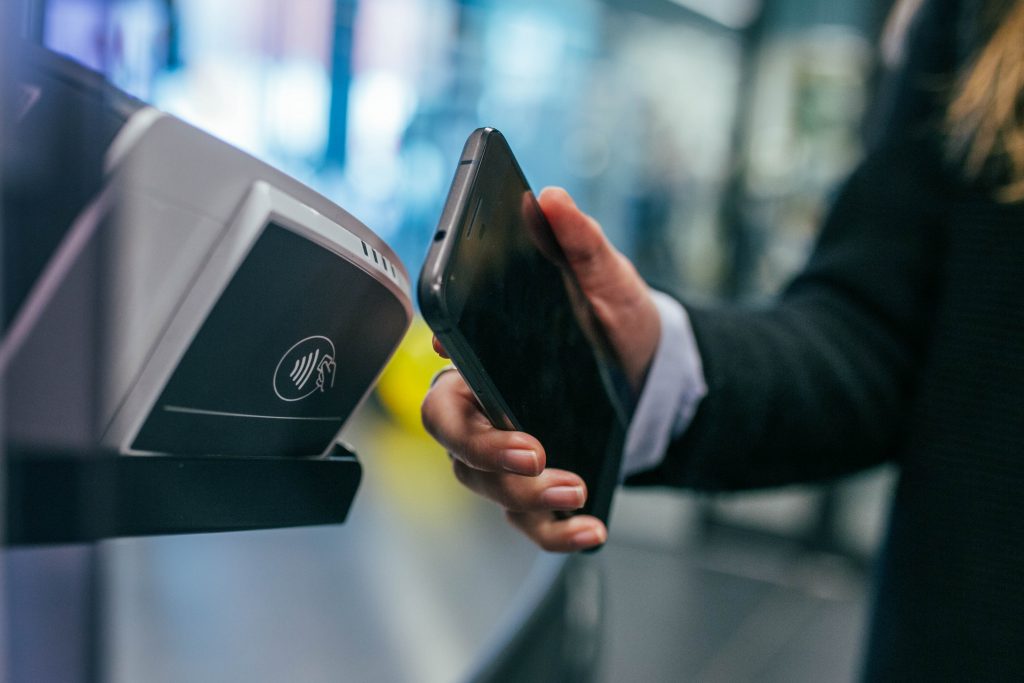 How does mobile ticketing work?
There are a range of different technologies available for mobile ticketing. Core solutions facilitate tickets being purchased on a mobile phone or tablet and then made available on the device. This could include a bus, tram, train, gig, cinema or event ticket. Tickets can be available to use instantly or they can be embargoed until they're ready for use. 
Mobile ticketing can also include QR codes, Bluetooth, Ultra-Wideband (UWB) or Near-Field Communication (NFC) technology, which creates short-range communication between electronic devices. You can also incorporate SMS all via dedicated iOS or Android apps. 
Mobile ticketing using QR codes
A customer purchases a ticket through a smartphone using an app and pays with a bank card or the card details stored in an e-wallet. A 'verification' is issued to the smartphone, in the form of a QR code, which grants access to a journey. Flash the barcode at the barriers to let you in, or present it to a ticket conductor. 
Mobile ticketing using Near-Field Communication tokens (NFC)
A customer purchases a ticket through a smartphone using an app and a NFC token or chip is generated on the customer's phone and is stored on it. 
The NFC chip in the device can be found in the ticket in the app and can be scanned upon ticket inspection. 
Bluetooth and Ultra Wideband
Devices that use bluetooth and Ultra Wideband technology, which is wireless radio-based communication, can be installed on bus and tram stops and the iOS and Android apps can connect to them.
Using these technologies we can allow our apps to communicate with devices to facilitate things such as providing additional information to customers or even automatic ticket purchasing.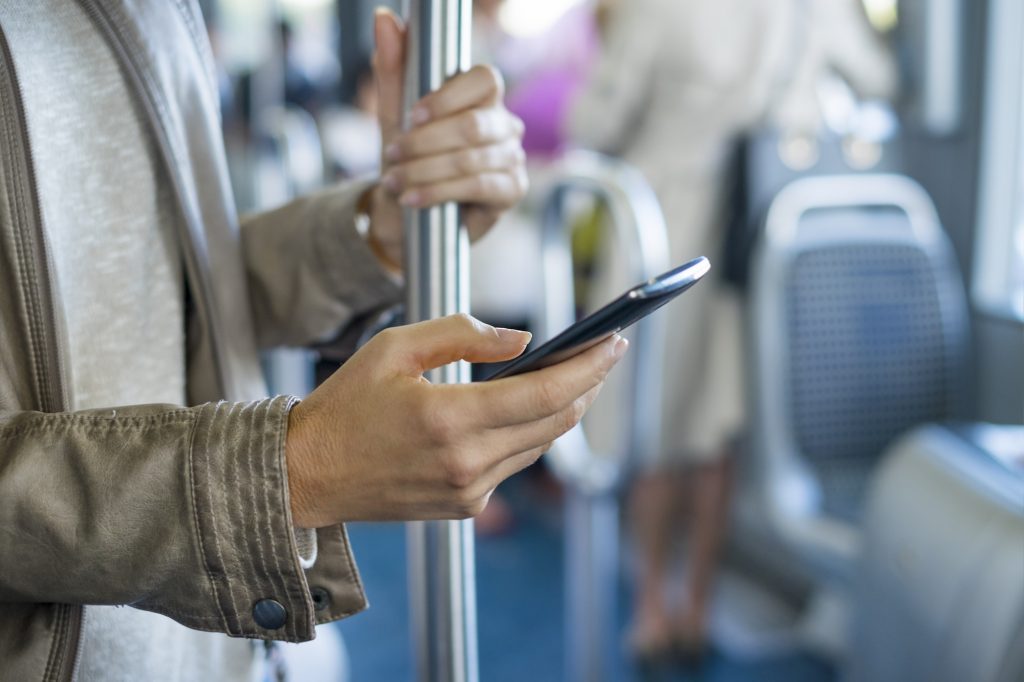 13 reasons public transport companies should invest in mobile ticketing
Transport companies must upscale their services to keep up to date with their passengers and competitors. It's important to go beyond traditional offers of buses, trams and trains. 
Mobile ticketing uses technology we're used to. It's being used in the aviation industry and for long-haul travel, so we're now well-versed in using mobile boarding passes. 
Gooii technology enables transit companies to put customer experiences first and simplify passengers' lives by enabling them to travel 'smart'. 

What are the benefits of mobile ticketing for public transport?
1. Improving passenger mobility – paperless, cashless and contactless
2. Convenience, above all else
Mobile ticketing is essential for 'buy before you board' type tickets and can be bought anytime and anywhere. In addition, our work with contactless travel, such as on the Nottingham Contactless, uses 'tap on, tap off' technology, which makes travelling easier than ever before.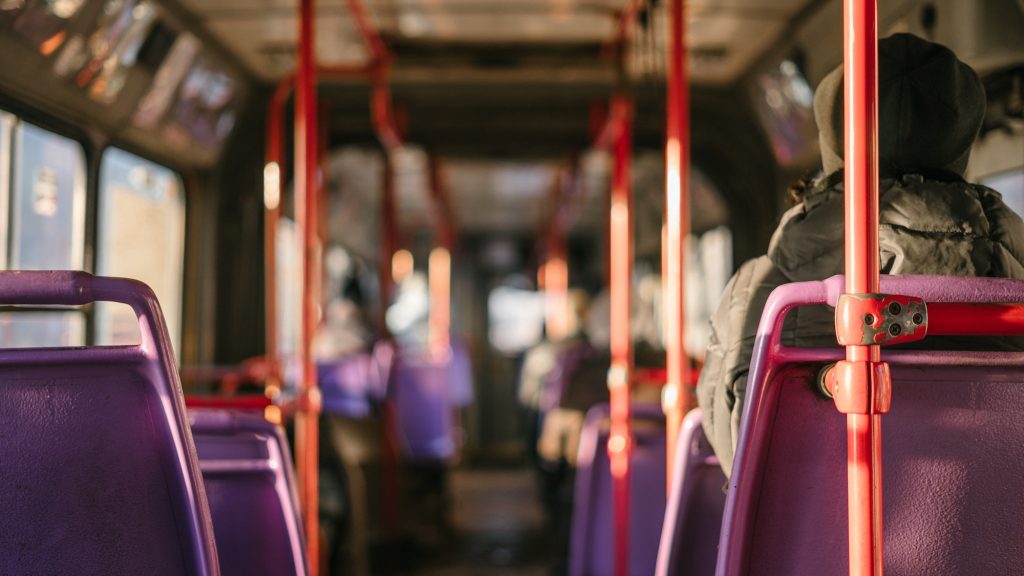 3. Virtual tickets in a cashless society
There's no need to carry the correct cash like in the old days when buses only accepted the correct change and we had to look down the back of the sofa for 20ps. Using an e-wallet removes the need for carrying money. Many websites and apps also incorporate a wallet feature so that credit card details don't need to be entered every time. This all goes to making the experience faster and more convenient than ever before.
4. A greener way to travel
Mobile ticketing is a sustainable ticketing option, in what's fast becoming a paperless society. More and more companies, particularly those in the transport industry, are making pledges to reduce carbon emissions and making commitments for their products or services to be kinder to the planet. The transport sector is no exception. Reducing the amount of paper tickets is an efficient step public transport operators can take towards this mission. 
5. Covid-friendly, contactless solutions
Mobile ticketing reduces touchpoints between staff and passengers. There's no need for people to handle cash, exchange tickets or interact with ticketing machines if it's all done through a smartphone. Tickets can then be shown or scanned by using a ticket inspector, driver or revenue protection officer's handheld device. 
6. Pre-purchasing reduces waiting times and queues
Mobile tickets are generated immediately – there's no need to stand in line at a ticketing office, which is ideal for last-minute purchases. Pre-purchasing tickets is also ideal for passengers that like to be organised, particularly when early-bird offers are available for discounts. 
7. Digital presence for your transport brand
With most customers now expecting some kind of digital presence, let alone a dedicated app, it's important to consider digital methods for your ticketing systems. Designated apps give transport companies a digital presence that users can rely on and trust. This can ncrease and modernise brand value at the same time. 
8. Ideal for travelling tourists
Simplifying local travel for tourists opens your business up to a new audience. Mobile tickets are ideal for people who want to book transportation in advance rather than waiting at a station minutes before their train, tram or bus is due to leave. There's also no need to ask the driver for a ticket, which might be particularly appealing for tourists and travellers from abroad. 
9. Quick booking process
Buying a mobile ticket is a quick and seamless booking process, taking the stress out of travel. Many passengers and commuters have lost confidence in travelling since the pandemic, so making any steps towards simplification will always be gratefully received.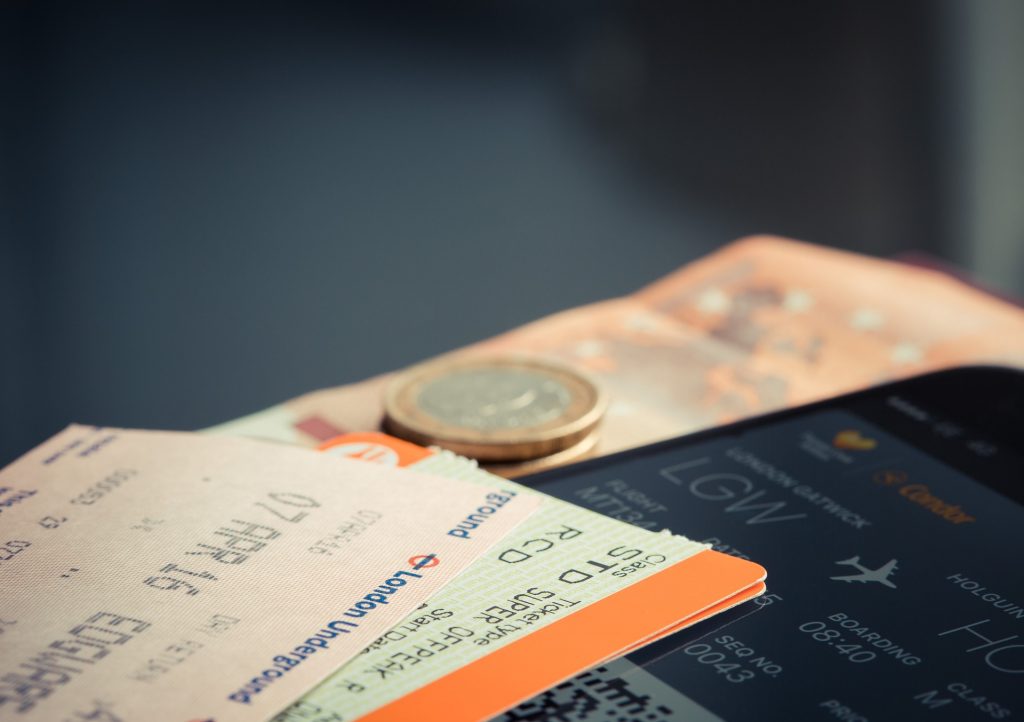 10. Avoid lost tickets
We all know how easy it is to lose paper tickets, but mobile tickets remove this risk as they're stored in one single place, either in an app or downloaded to your phone. The tickets are stored securely and tied to a customer's device and account, making them easy to retrieve and incredibly secure. And if the customer loses or changes their phone, the tickets can be restored at the tap of a button.   
11. Find out more information about your customer
Mobile ticketing enables you to gather data on ticket purchases, user demographics and purchase trends, which will work wonders for marketing insights and help operators stay at the forefront of industry innovation.
12. Add value to the app
Public transport is no longer just about getting from A to B. Operators must improve the value of the journey itself. Apps can be integrated with other technologies to add value to the user e.g. route maps, service status updates, travel news, timetables, route and journey planning and even Virtual and Augmented Reality content. Push notifications can be added for directly communicating with customers with service updates and travel information. 
Gooii can also add customer service help desk software and customer care interfaces to help support customer service requests alongside our mobile ticketing iPhone and Android apps.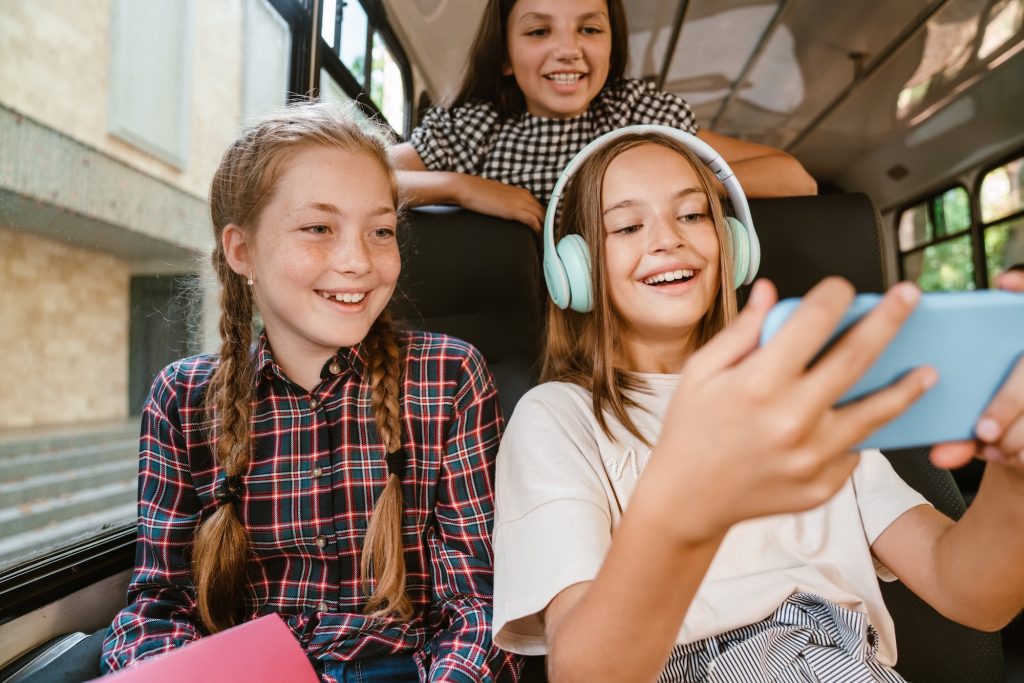 13. Reduce customer service enquiries
Customers can make enquiries through the app or website, meaning they don't have to spend time on the phone to your customer service team. We're also able to integrate with operators' existing customer service centres, enabling a streamlined and seamless customer support service.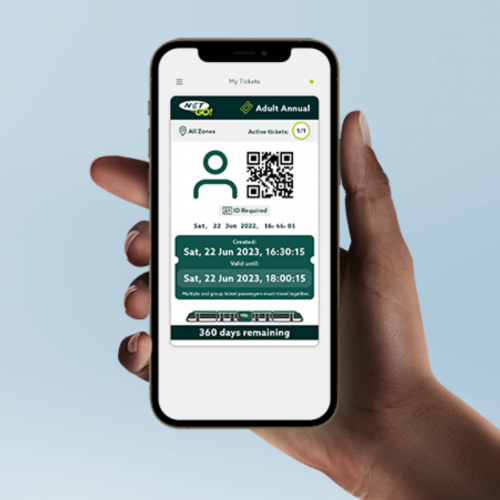 Mobile ticketing case study: NETGO! for Nottingham's tram network

NETGO! is Nottingham's tram mobile ticket app for Nottingham's tram network. Gooii developed the complete solution for Tramlink Nottingham – not just the iPhone and Android apps themselves, but the backend systems to drive and sell tickets as well as the customer management software (CMS). 
Using the app is a quick and simple way to purchase tram tickets using a mobile phone. Single, day, week, group and season tickets can be bought in a matter of seconds. The app also features newly added event tickets, including a Nottingham Forest FC Season pass.
The brief
Tramlink Nottingham came to Gooii to develop a bespoke solution that would stand out in comparison to existing products on the market. This brief enabled us to create an experience that delivered on our shared key goals of creating a mobile ticketing app that's fast, easy to use and provides customer convenience as well as innovative security features. Key to the app development is the flexibility to add new features, allowing it to continually adapt and grow.
During the development phase we conducted market research to ensure our mobile ticketing apps addressed the issues of current apps on the market. Key to this was putting the user experience first.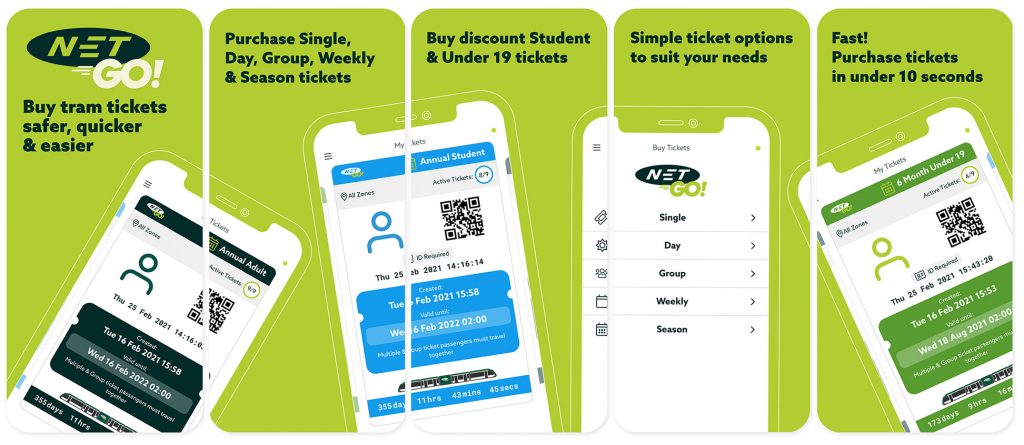 Key functions of the NETGO! app:
Integrated with payment service providers
The ticket app solution includes payment service provider integration. Ticket payments can be made via debit cards and mobile payment services such as Apple Pay and Google Pay. Other payment methods such as PayPal can also be implemented.
Service updates
The app creates notifications within the app itself, or can send push notifications to inform users of service updates, depending on user preference. 
In-built security
Tickets are activated on purchase and then secured to one single device to prevent ticket sharing. The in-built security features ensure that tickets can't be fraudulently used, providing robust security for both our transport clients and their customers. NETGO! customers' payment details are stored by the payment service provider, which provides further security and convenience. 
Personalised wallets
Customers can view all their active tickets in one place within the iOS and Android app.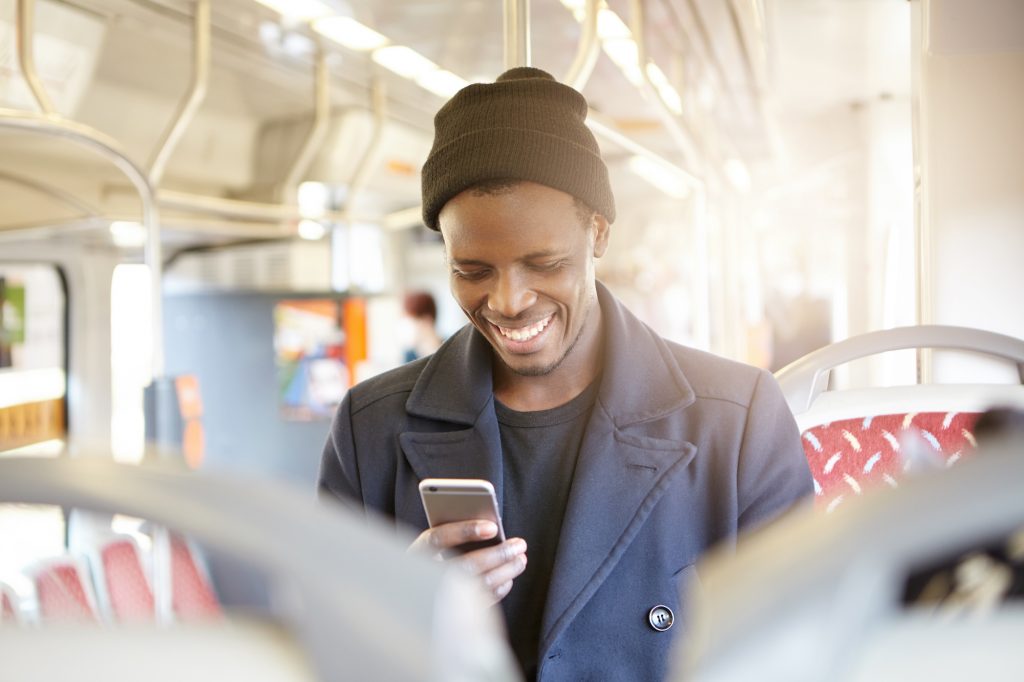 Buy multiple tickets in one go
Buy tickets for multiple passengers in one transaction, which is handy for families, business trips and groups of friends travelling together. 
Easily update prices
Prices and tickets can easily be added and updated remotely without the need for an app update and these changes are reflected immediately.. 
Customer accounts
Customers can create an account, which enables faster checkout. Customers can also retain purchase history and buy season tickets. One big advantage of having a registered account is that customers can purchase higher value season tickets, receive faster customer support, and move tickets to a new device if they get a new phone.
Detailed analytics and insights
Our transport apps also come with detailed analytics on ticket purchases and trends for the client, such as downloads and usage. It's even possible for tickets to be tracked from when they've been created to when they've been used, allowing operators to gain insights on travel patterns. This helps create a more personalised service for passengers. 
Mobile ticketing case study: Nottingham Contactless – Oyster-style contactless tickets

Gooii developed the front-end website of Nottingham Contactless and worked alongside INIT (Innovations in Transportation Ltd), the technology company that supplies integrated ticketing systems for buses and trains.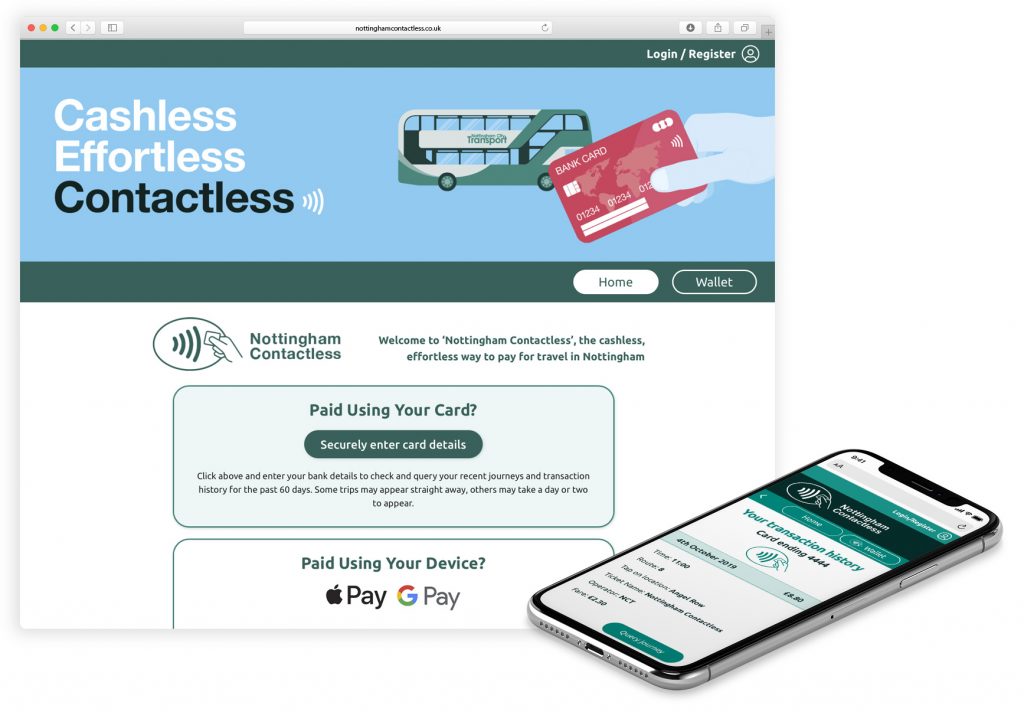 The client
We developed a multi-agency solution, as Nottingham Contactless works across all Nottingham buses and trams – all NCT buses, all NET trams and the Linkbus network operated by CT4N. The solution is a partnership between Nottingham City Council, Nottingham City Transport, NET and Linkbus services. 
The brief
The Nottingham Contactless website needed to be easy and quick to use. Core functionality was another important factor. 
The clients wanted to reduce the number of customer service enquiries, so we made sure that the option to enter card details in order to retrieve journeys and transactions was on the very front of the website. We also added a 'wallet' section to the website, which passengers can log in to to view their recent journeys. 
Multi-operator day capping rates
The Nottingham Contactless system is the first Oyster-style contactless ticketing system in the country outside of London, giving customers the best fare regardless of journey type. 
Passengers can make contactless payments with each operator and benefit from their day capping rates.The Tap & Go capped fares are available across all operators, ensuring you pay the best fare for your travel regardless of which operator you use or the number of journeys you make. 

How the Nottingham Contactless system works – Tap & Go capped fares
A passenger taps their debit or credit card on to the contactless card reader on the NCT bus or at the validator on the tram platform. Make sure you use the same card for all your journeys to benefit from the daily capped fees. Apple Pay and Google Pay transactions are also possible allowing for the ability to pay via mobile devices such as phones, tablets and smart watches.

The Nottingham Contactless system developed by INIT calculates the best price for all the journeys you make during one day and will cap it at the standard price of a day ticket. This technology is similar to Transport For London's ticketing system, which caps the price of daily travel, regardless of the mode of transport you're using.

Please note – no tickets are issued using the Contactless Tap & Go payments.Passengers can use the Nottingham Contactless website developed by Gooii to check their recent journeys and transactions by entering the card details.

Customers can enter their card details in order to view their travel history and a log of their payments and capping.

Customers can easily query a journey or a transaction through the website, as well as see the progress of these queries. 

Highly accessible website
Throughout the development stage, we used our experience of developing highly accessible websites. The site is compliant to level AA with many features of level AAA compliant to Web Content Accessibility Guidelines (WCAG) and World Wide Web Consortium (W3C) guidelines. 
We develop semantic, accessible HTML5 markup, which uses specific tags to clearly indicate the content in the HTML tags, including textual alternatives for non-text content.
In-house tools, such as the WAVE accessibility suite, were used throughout development to ensure compliance to the relevant accessibility level. On project completion we run these tests again, review the reports and carry out any recommendations.
We also extensively test against all manner of devices and browsers, using both physical devices and the Browserstack suite of testing tools, which comprise over 2000 real devices and browsers. 
PCI compliant
The website integrates with a payment service provider, ensuring the transactions are Payment Card Industry (PCI) compliant, which is mandated by credit card companies to govern the security of credit card transactions. Additional features include the ability to store PCI compliant tokens within a customer wallet. This means that no sensitive customer payment information is stored on our servers but allows for fast retrieval of journey information on subsequent visits.
Client feedback
The City Council's Portfolio Holder for Local Transport, Councillor Rosemary Healy, said: "We have been working towards a multi-operator contactless and capped payment option for a number of years now, to make using our wonderful public transport network as simple and stress-free as possible. It's something we may have experienced in other great cities and I'm really pleased we are now offering it to people visiting, living and working in Nottingham.
NCT's Strategic Projects Manager, Nicola Tidy, said: "Contactless payments have revolutionised the way people pay for travel on NCT buses and by expanding Nottingham Contactless so that customers benefit from Robin Hood price caps when they travel across NCT, NET and Linkbuses, paying for travel around Nottingham is now even more convenient."
Additional important questions to ask when developing a mobile ticketing system
How secure is it?
Mobile ticketing apps have the potential to store a lot of valuable and private data about users. Gooii's mobile ticketing systems include a secure end-to-end ticketing process and include innovative security features to prevent fraud.
Do you have a privacy policy?
Ensure you have an up-to-date privacy policy that is easily accessible to all customers. For example, NETGO!'s privacy policy is available to view within the app itself and is linked to in the app store before purchase.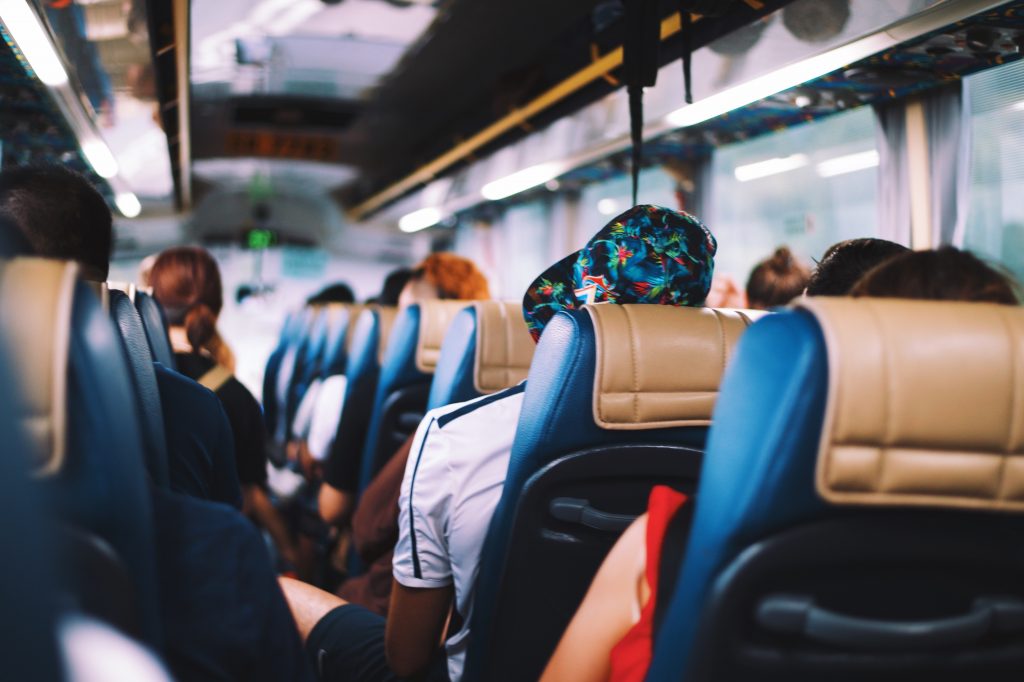 Mobile ticketing enables cities to modernise an important part of its infrastructure. Many cities across the UK are upgrading traditional networks and services by using digital solutions to make them more efficient, reduce emissions and improve the quality of life of their citizens.
Smart ticketing technologies for public transport are revolutionising the sector. The solutions help industry leaders to remove the barriers that many modern commuters face when accessing public transport, such as not carrying cash or knowing the right stop to ask for. 
What's handy is that before the rise of mobile ticketing, the transport industry was developing technology for contactless card readers and smart cards, so much of the costly infrastructure has already been built. 
While it's important to remember that ticketing systems must be flexible and support new technology and devices, Gooii is able to develop smart technology that suits companies' public transport requirements and meet customers' changing needs.
What's great about Gooii's mobile ticketing app is that the product itself is flexible enough to be customised to a client's requirements. Therefore it can be adapted to a variety of transport modes and industries in. 
If you'd like to discuss how you can use mobile ticketing technology in your world, please don't hesitate to get in touch.